Mike Hickok to retire after 35 years of work that matters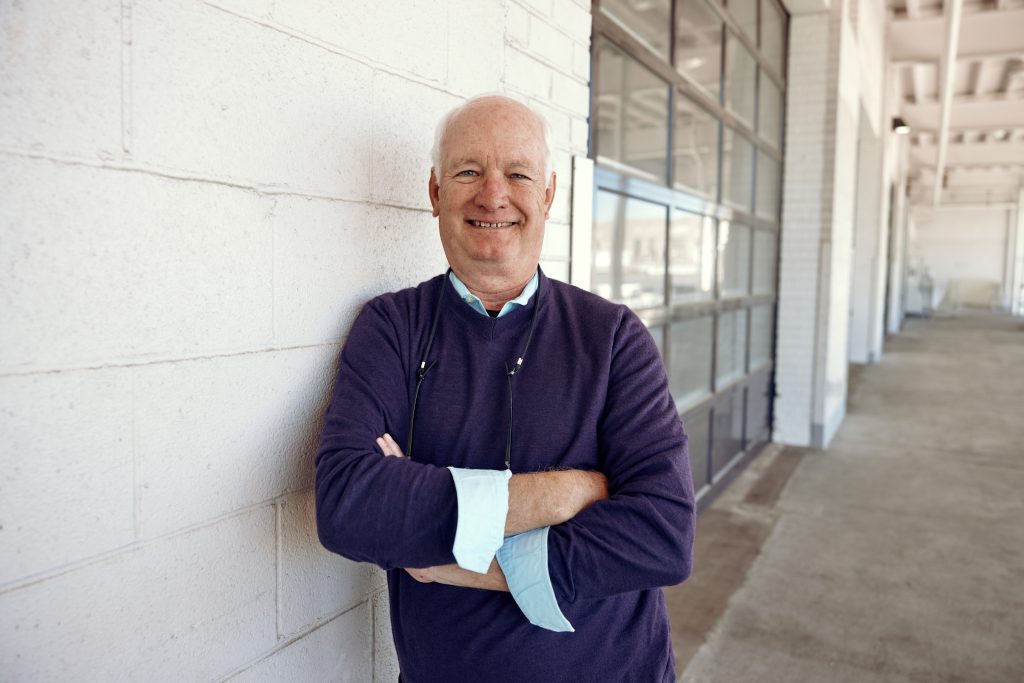 Senior Principal Mike Hickok announces plans to retire at the end of 2023.
Today, we celebrate Michael E. Hickok, FAIA's career and legacy as he announces plans to retire at the close of this year. Mike founded what's now known as Hickok Cole in 1988 under the name Michael E. Hickok Architects. Since that time, he's been a steady hand guiding our growth into the forward-focused creative practice we are today. His five decades of design and management experience span typologies and services, ranging from 200-acre suburban master plans and complex multi-building urban sites to large-scale corporate headquarters and mixed-use developments. Mike's knowledge of the commercial real estate market and experience working with local District approval agencies helped establish our reputation as the go-to firm for some of the area's most challenging, ambitious, and ground-breaking projects. His longtime support of local arts sparked the creation of Art Night–our signature fundraising event that's raised $1.8 million for Washington Project for the Arts (WPA) and the DC arts community over its 22-year history.


































Mike holds a Bachelor of Arts in Architecture from the University of Pennsylvania and a Master of Architecture from Harvard University's Graduate School of Design, where he is an emeritus member of the Alumni Council and founding member of the school's Industry Advisors Group. He is a Past President of AIA|DC's Board of Directors, a recipient of the Washington Architectural Foundation's Architectural Firm of the Year, and a Fellow of the American Institute of Architects.
The Partnership
Mike and Yolanda first met collaborating on Anderson Consulting's local headquarters. In 2003, they merged their respective firms to form Hickok Cole and we've been growing in size, scope, impact, and reach ever since. Unlike other firms where principals divide and conquer, they chose to lead together in all things–leveraging their complementary skills, perspectives, and personalities to lead the firm with shared ambition and vision. Twenty years later, they've maintained a successful partnership, established us as one of the top design firms in the region, and–most importantly–earned a reputation as a great place to work. The pictures speak for themselves but we think it's pretty safe to say they had a lot of fun along the way.

It's always been Mike and Yolanda's desire to transition ownership of the firm to those who helped make it great. Though Yolanda's retirement plans are still some years down the road, this transition is well underway to a proven and established team of leaders with the market expertise, vision, and management experience to keep Hickok Cole confidently moving forward. At the ownership level this includes CFO/COO John Bisch, Director of Housing Laurence Caudle, AIA, Director of Office Rob Holzbach, AIA, Director of Project Operations David Wahl, AIA, Director of Creative Sarah Barr, Managing Director Mark Ramirez, AIA, Director of Design Elba Morales, and Director of Technical Operations Jason Wright, AIA, LEED AP. This group will continue serving as strategic leaders and representatives of the firm as we prepare to become a certified woman-owned business in 2024.
"On behalf of the firm, I would like to thank Mike for his exemplary commitment and sustained vision to do work that matters. I could not have asked for a better partner and friend," said Yolanda Cole. "While bittersweet, we always knew this day would come and have been preparing accordingly to define the future of Hickok Cole alongside the next generation of firm leaders. Together, we've been investing in diverse emerging leaders who reflect the firm's values and support the platform Mike helped build. Hickok Cole is in good hands."
The Platform
"In the beginning, you don't have enough vision or experience to know what kind of firm you want to build," said Mike. "You just do whatever you can bring work in the door. And that's what we did." When Mike and Yolanda joined forces, they made the conscious choice to shift that mindset by structuring the firm around ideas and creating a platform for great design. "We never talked about how big we wanted to be, just big enough to be taken seriously." They placed research at the root of the practice and with it came a culture of exploration, a growing team of inspired designers, and big opportunities that stretched our collective skills, creativity, and reputation. As employee number one, Mike witnessed every step along the way as we added new services, offices, and geographies in pursuit of bigger, bolder design challenges–and we're just getting started.
"My proudest achievement is the platform for great design we've built together and I'm confident in the future as the next generation of leaders continues to advance our mission," said Mike. "Thank you all for being a part of building this firm into the creative force it is today–and allowing me to do what I love most. It's been an honor and I can't wait to see what's next for each of you and for Hickok Cole."










































The Partners
"My contacts were in the developer world and I found that I liked that–how quickly they move, their aspirations, and their overly optimistic and aggressive personalities. I connected with them and learned to speak their language." From our smallest fit-out to our most complex development, our firm has evolved alongside partners who trust us with their vision. That journey continues today as longtime clients bring us new challenges and take us with them to new geographies. These relationships go beyond the project work to support causes like Art Night and our own aspirations to do work that matters in our backyard and beyond.
"To my partners, friends, clients, and team, I am so grateful for the opportunities you've granted us and the tremendous impact we've had on shaping this city and the vibrant community it supports," said Mike.
















































The Projects
"Firms evolve around projects–and you can feel in the moment when you have an exceptional opportunity," said Mike. "That's what it was like during NPR. We were expecting bad news when the client called to say we got the job. When I heard we won, I cried. We won CSIS shortly after. It was a wildly exciting time and a clear turning point for the firm." Since then, we've maintained an upward trajectory, capturing work that pushed design to the forefront, grew our capabilities, and earned recognition from organizations such as AIA, IIDA, Multi-Housing News, NAIOP, and ULI. "We've become the firm we knew we could be and the best is yet to come."