Mass Timber's Moment: What's Next for CLT?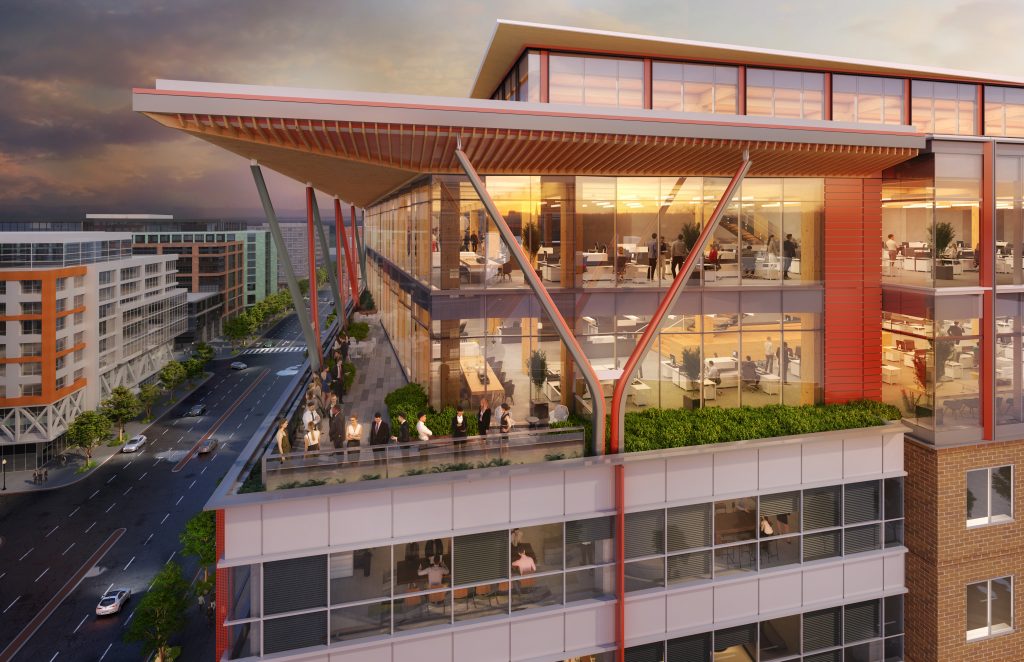 Just last month, over 1,300 tons of mass timber arrived on site at 80 M Street in Washington, DC's Capitol Riverfront district. Having completed its journey from the forests of the Pacific Northwest and Eastern Canada, the timber was hoisted atop the commercial office building and, over the course of a few short months, will result in 105,000-SF of additional leasable tenant and amenity space. The 80 M Street renovation, the District of Columbia's first mass timber and glass vertical expansion project, is a triumph for a number of reasons, the most crucial of which is its signaling to the real estate industry the possibility for further development of its kind.
The culmination of extensive research and a lengthy entitlement process including the approval for code modifications and community review, 80 M Street came to fruition under the guidance of a client with vision and the collaboration of an invested project team who saw the sustainable material's long-term potential. And the potential is endless, insists the senior designer behind 80 M Street, Tom Corrado, LEED AP, who, in partnership with John Lang, AIA, a senior associate at Hickok Cole, has been exploring the next opportunity for mass timber development in DC.
"We're at a point where every conversation we have with a client begins with mass timber," Tom stated. Having witnessed the rise in remote workers this past year, and well aware of the housing crisis in the District, Tom and John venture that timber could reconcile these issues.
"Residential construction is primed for timber, especially when you need housing fast," comments John. Having specialized in residential design throughout his tenure at Hickok Cole, John is an advocate for affordable and attainable housing and sees it as timber's next step. "The module for housing is smaller than office and timber construction excels on shorter structural systems. Better still, mass timber comes in pre-fabricated panels that speed up construction and reduce the amount of labor on-site. Consequently, that usually means improved quality control." With labor costs skyrocketing and skilled labor dwindling, this could ultimately help drive down or at least steady rent prices, he pointed out.
"Not to mention the biophilic element and connection to nature these residences would provide," adds Tom. "Humans are not meant to live in these 600-SF boxes. We need access to greenery and sunlight. And just being surrounded by wood accomplishes that – it's definitely better for you than concrete and dry wall."
With the increased attention to health and wellness due to the pandemic, John explains, it's obvious that the housing industry will require a shift as well. "That includes everything from better HVAC systems and ventilation to availability of outdoor amenities and remote work accommodations. But, we've also seen how drastically our presence impacts the planet. With nowhere to go this past year, the roads were clearer and so were the skies – we can't ignore that."
It's true that our definition of a healthy lifestyle has expanded to include a focus on climate change and reducing our carbon footprint – and that of buildings. It's especially true when you consider that the construction and building industry accounts for nearly 40% of global carbon emissions annually. Not only is wood the only building material that is 100% renewable but as they grow, forests actually sequester nearly 13% of total U.S. carbon dioxide emissions per year. As a result, buildings made from wood store that carbon throughout their lifespans.
The case for timber is clear and has been made countless times. So, if it seems so obvious, then why has it been so challenging convincing developers and building owners to pursue mass timber construction? As is usual with the early stages of any new technology, the biggest hurdles are cost and the associated risks (including a decent learning curve in this case) with being the first. But, as Tom points out, we're not the first. We're not even close – at least not globally. In fact, most of Europe and Canada, and even parts of Asia, including China despite its robust steel economy, have been investing in the material for some time now. In West Coast states like California and Washington, where timber is easily accessible and often cheaper, experimenting with timber in a variety of project types including schools, hotels, and even entertainment venues began almost a decade ago.
"We're looking into medical office buildings as well," Tom added. "There's been a shift in the medical community away from single practitioners occupying a portion of a larger building towards several providing care under one roof. We predict folks will be going to a single location for all their health and wellness needs in the future so why not create a better environment and improve the user experience holistically?" Mass timber can improve air quality and acoustics, and has been proven to elicit a positive human response from occupants.
Now that timber has made it to the nation's capital, the question remains: how can we propel the timber movement forward? Cutting down costs is one way – but that comes with increased supply. One of the biggest factors contributing to the premium on wood is limited resources on the East Coast. "We need to make the case for forests on this side of the country. Areas in the northeast like Maine and Vermont are well suited for it," says John.
The next step is understanding the International Building Code and navigating jurisdictional zoning laws and safety regulations. "Form your project team early on, involve local representatives and jurisdictions right away, and educate the community," Tom suggests. "Every project is different, but it only takes a few early adopters to remove uncertainty from the equation." From there, he says, the knowledge is public, and you now have a pool of experts who can take the lead on the entitlement process or negotiating code modifications, as needed.
"It's true that sustainability alone isn't enough of a motive for development to occur, especially if the dollars don't lean in your favor," says John. "And developers shouldn't have to bear the brunt of these costs. That's why it's crucial to have an open dialogue with your jurisdiction." Putting your cards on the table and seeing how your goals align can prompt the introduction of sustainable incentive programs, tax credits, grants, and other forms of government support.
"The results are in on timber. We should no longer be concerned with early adoption," Tom contended. "In fact, our biggest risk is being last to get on board."
Want to explore mass timber for your next project? Contact Laura Roth, Director of Business Development, to schedule a conversation with the team.