Key strategies to minimize the built environment's footprint and position your portfolio for success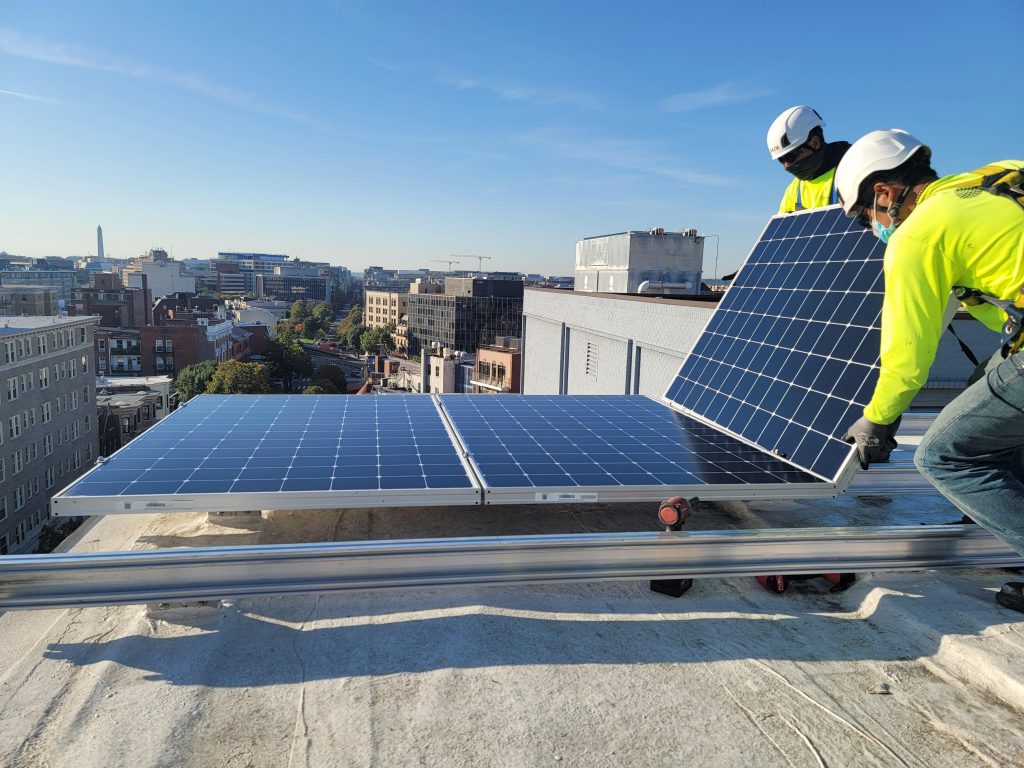 Given the built environment's substantial contribution to global greenhouse gas emissions, members of the building and construction industry feel an immense responsibility to be a part of the solution. Combined with ambitious local mandates and stakeholder pressure, corporate ESG commitments are driving building owners, developers, and investors to take an even more critical eye, recognizing a clear imperative to improve the performance of their assets–not only for the sake of resiliency but to remain competitive in today's marketplace.
Performance goals vary based on project scope and in response to site constraints, budget, and jurisdictional priorities. While there's no one-size-fits-all solution, Guilherme Almeida, Director of High-Performance Design and Sustainability shares the best strategies every savvy developer should consider to set themselves–and their portfolio–up for long-term success.
Low-Carbon Materials
Reclaimed and carbon-sequestering alternatives to steel and concrete are making headway when it comes to modern structural systems–and not always at a premium. As one of the largest components within a building, the structural system you choose can have a sizable impact, especially in cities like Boston whose goals target carbon reduction.
We introduce mass timber from go because its modularity and lightweight often lend to greater overall efficiency and flexibility as well as a lower premium. Mass timber structures can be constructed off-site, resulting in less disruption and faster-than-average delivery. These materials don't require a purist approach either. You can combine low-carbon and traditional materials–such as mass timber, carbon cure concrete, or low-carbon concrete mixtures–to project sections whether it be whole floors or in amenities alone, as is the case with our Harp's Landing project.
Beyond specifying better, less carbon-intensive products, we should strive to build lighter and smarter. As one of the core guidelines in AIA-CLF's Embodied Carbon Toolkit, the concept of building smarter focuses on maximizing and right-sizing spaces to serve multiple programmatic uses. Building lighter involves making a concerted effort to design lightweight and efficient structures that eliminate or reduce supplemental support systems and materials.
Evaluate the Envelope
A building's envelope is likely the biggest culprit for energy waste, yet most modern buildings maximize glass and glazing for their aesthetic appeal. We recommend a more balanced approach when it comes to façade design, taking cues from Passive House strategies to enhance and tighten our building envelopes for better insulation and energy efficiency without sacrificing quality. Depending on the site orientation, floor plans, and other strategic factors, this approach can provide just as much natural light (in addition to better thermal comfort, less glare, and more privacy) to residents and tenants.
Leverage analytical tools and software to assess the effect of various decisions early in the design process. Daylighting, for example, can be tested with digital design programs like Revit or Sketchup.
Incorporate Renewables
Every building should offset its energy consumption with the addition of renewable energy sources. DC is steering projects towards electrification (the elimination of on-site combustibles such as gas or fuel oil) while incentivizing and, in some cases, requiring renewable sources of energy. The District has an ambitious goal of halving greenhouse gas emissions by 2032 (when compared to 2018 baseline) and generating 100% of its energy from renewable sources (10% of which would be solar PV generated within the city).
We're seeing a concerted effort to incorporate renewable energy across the country because of the benefits it provides to both owners and occupants. Adding solar panels to an underutilized rooftop is low-hanging fruit when it comes to improving existing building performance, especially if you or your firm qualify for government incentive programs or tax credits.
In urban environments, where resources like land are scarce, renewables are most effective for larger-scale new developments. In the suburbs, developers can take advantage of the larger surface area to generate a significant amount of energy that directly serves the community. Regardless of state requirements, best practice is to install energy-efficient MEP systems which both increase the asset's value and decrease operating expenses.
Repurpose Where Possible
The most sustainable building is the one already built. Before knocking down a building, evaluate its potential for repositioning or strategic intervention. Finding new purpose in existing stock is the best way to reduce embodied carbon. We've successfully transformed outdated or underutilized spaces like Class C office buildings and malls into modern residences and mixed-use communities that address other real estate imperatives like housing accessibility and availability.
Interior renovations and remodels contribute to a substantial portion of emissions over time. Due to the frequency and volume of interior renovations that occur over the course of a building's lifetime, their overall impact can eventually surpass the embodied carbon emissions generated by the construction of a new structure and envelope. It's therefore equally important to design with intention and for longevity, as it is to specify high-quality products that can weather the test of time and be reasonably serviced or updated with little environmental impact. Even better if those products are re-used, refurbished, remanufactured, or recycled. Cradle to Cradle certification is a good reference tool to ensure project materials can renter the circular economy at the end of their useful life.
Assemble the Right Experts
Integrated approaches are essential to planning and problem-solving. Assembling your team – especially the architect, general contractor, and MEP engineer – early on is simply the easiest, most effective strategy to set appropriate goals and ensure your project's success. Our most successful sustainable projects, including AGU's net zero energy headquarters, broke away from the typical timeline for a team selection process, favoring a fully collaborative approach to maximize expertise. Part of that process included hosting a kick-off charette with the core design team and other project stakeholders, including community and local jurisdiction members to ensure all voices were valued from the start.
While our industry shares responsibility, we should also recognize the enormous opportunity we have. Collectively, we can completely transform our approach to prioritize sustainable practices and better, more efficient design. Viewing a project holistically, with all players at the table from inception better positions a project team to set realistic and achievable goals – goals that support your bottom line. As those responsible for the impact of future development, we have the right tools, strategies, and resources at our disposal. It's up to us to choose them.
What's next for you? Connect with Gui to learn more about how our team of experts can position your portfolio for success.