Our New World of Work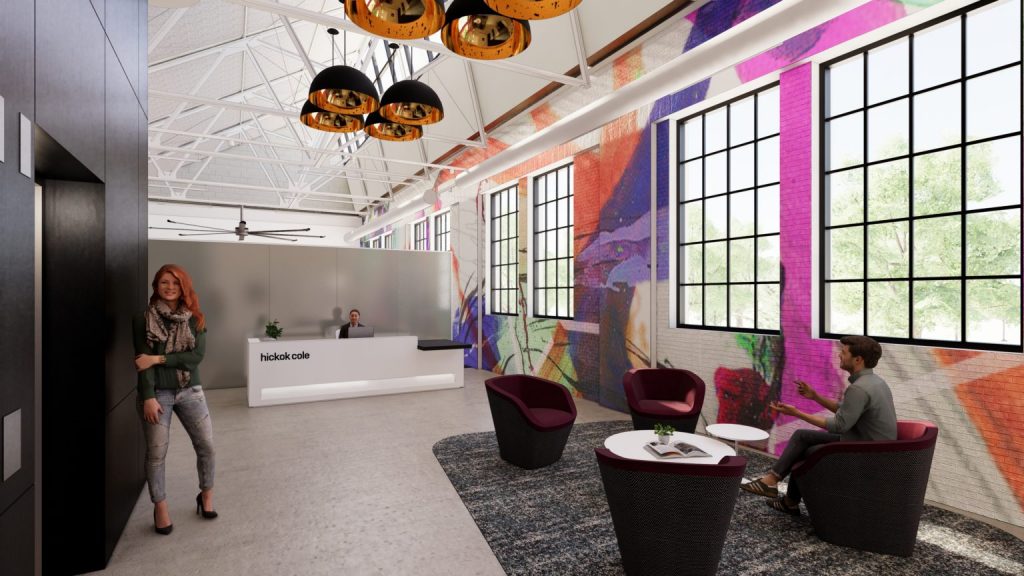 At Hickok Cole, we believe in the power of the office to unite, motivate, and inspire. Beginning this month, we're initiating our phased transition back to the physical workplace—this time in our new NoMa headquarters near Union Market. The irony of designing and constructing our new workplace while working remotely is not lost on us. But it did present a once-in-a-lifetime opportunity to reimagine how we work while incorporating WFH lessons learned in real-time. Through discovery sessions with leadership, team workshops, and staff surveys, our designers created an environment that represents who we are and serves where we're going. With a fresh perspective and a renewed appreciation for our firm culture, we look forward to exploring our new world of work and a return to togetherness. Welcome to the new Hickok Cole HQ.
How we focus
As challenging as the pandemic was, remote work taught us a lot about how we work and in what conditions we thrive. While we missed being surrounded by colleagues, for some of us, the ability to tackle focus work without interruption proved highly conducive for our productivity. In consolidating staff from across three floors into one open studio, we knew acoustics would be a major concern. This drove the incorporation of reservable and impromptu focus rooms of all shapes and sizes to accommodate heads down and group work without disrupting the rest of the office. In our studio space, the sawtooth ceiling features acoustical panels designed to absorb sound (in addition to show-stopping skylights). Combined with soft surfaces on our workstations, flexible soft seating, and white noise throughout, the space is well-equipped to maximize creativity while minimizing distractions.
How we collaborate
As designers, we know how crucial the support and expertise of our peers can be. Our new open studio blends service and market expertise across the floor to expose staff to a variety of people, projects, and experiences to keep them inspired. Along the perimeter, several touch-down spaces provide teams the flexibility to discuss and observe project work away from the restrictions of their desks. These spaces are designed to encourage impromptu conversation and provide a visual representation of the collaboration we craved during the pandemic. Through a combination of digital and physical display boards, project work can be prominently featured or pinned up for review—increasing the cross-pollination of ideas, exposing teams to new techniques, and showcasing how each individual team contributes to our mission to do work that matters.
How we connect
The office is a platform for ideas to collide and a place to learn and grow, but it's also a community. In response to our new hybrid work policies, we amplified our creative, home-grown culture through intentional touchpoints that support bringing people together both in the office and from home. With the thoughtful integration of video conferencing technologies, wifi, and charging stations throughout the office, hybrid teams of all sizes have what they need to work seamlessly. And for the in-person gatherings we love—like our annual Art Night, lunches with colleagues, and weekly staff happy hours—the design team incorporated a platform stage inspired by our old space, a flexible cafe with bar and banquet seating, and a new private terrace. While we'll miss the memories of our Georgetown stoop, we know the opportunity to forge new ones in NoMa are tenfold.
Come see for yourself.
Connect with Director of Business Development Laura Roth to schedule your tour. Can't wait to host you in our new home!