Express Yourself: Communicating Purpose with Experiential Graphic Design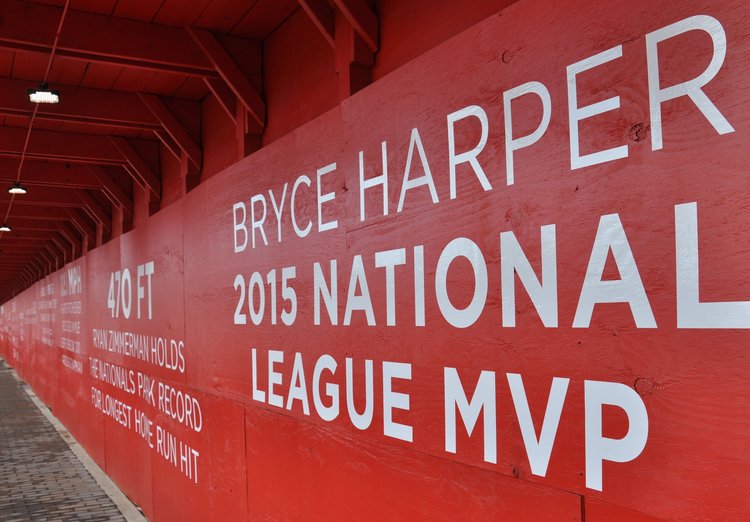 From visioning with clients and designers to coordinating with fabricators and artists, Rebecca Kelly, Art Director for Hickok Cole Creative, and our resident Experiential Graphic Design (EGD) expert, orchestrates a team of creatives to bring delightful, educational, and emotionally compelling content to every project. Today, Rebecca shares her insights on the value of thoughtful EGD strategies and why right now is an excellent time to reevaluate how brand is expressed throughout your space.
Understanding Experiential Graphic Design
Simply put, Experiential Graphic Design is the intersection of graphic design and the built environment. By communicating through a variety of static and digital graphics and content solutions including signage, wayfinding systems, and artwork, EGD brings environments to life with engaging and memorable experiences.
Express Yourself
Whether it's through a welcoming reception experience, interactive exhibits, or a colorful mural, the main driver behind EGD is to improve day-to-day experiences for the end-user. In a corporate environment, EGD contributes to overall satisfaction and improves retention by reminding employees of their value and the many ways they contribute to their organization's overall mission and culture.
As employers look towards a return to the physical office, Rebecca recommends they reflect on their evolution over the past year working remotely and whether the incorporation of EGD strategies could make the transition back more comfortable for their team. "Think: How has this time away changed our culture and what can we do to re-unify and motivate employees?" she suggests. "This is an opportunity to generate excitement and give them something to look forward to. Something that makes them proud when they step back into the workplace environment. Being back will feel like a luxury." She adds that it's okay to start small like, "procuring new art that supports your company culture or prominently displaying your mission statement in a high-traffic area." However subtle, what's important is that these visual cues connect to the brand and evoke a sense of place and community.
Likewise, EGD can help distinguish multi-family properties. A branded lobby is an expression of the residence and provides a glimpse at a potential lifestyle. "There's definitely a cool-factor associated with certain design concepts," Rebecca adds. "You're signifying a brand and creating a place that resonates so that by the third or fourth apartment tour, prospective residents can easily recall the details that made your property special."
Going Beyond Signage
A common misconception is that EGD focuses solely on graphics and signage but it's really the whole experiential package and can extend to the subtlest of details. Often, the EGD team seeks elements from the interior design they can respond to in their marketing materials and collateral. Sourcing inspiration from the texture and materiality of a design concept and re-interpreting them for graphic assets creates another touch point that reinforces or complements the brand.
In some instances, uncommon materials can be woven into experiential design. Patterns, tactile elements, and origin all have a story to tell. Rebecca recalls working with a GSA client to source fabrics from the various countries that they serve as a way to layer authenticity into the project. These colorful textiles became featured elements in an exhibit design, creating an emotional connection for teams to their shared purpose. Other examples of expressing your brand include using sustainably sourced, recycled, or local materials. "These small details combine to tell a cohesive story and a tangible articulation of your brand. It's about practicing what you preach," she adds.
While EGD is an effective storytelling tool, sometimes it's a matter of bringing beauty into a space, making it a cooler and more enjoyable experience. A parking garage is the perfect blank slate and often-missed opportunity to bring a brand to life. To complement the multifamily marketing package for Kingston McLean Crossing, hand-painted botanical murals were located at each level for wayfinding and improved resident experience.
A Cohesive Story: From Start to Finish
For maximum impact, plan to engage a creative team early in the design process. "When we work together with the design teams early on, we're able to weave storytelling opportunities into the design in a more integral way," explains Rebecca. "Each decision informs another and through collaboration, we're able to trigger creative innovation and expose opportunities to strengthen the entire experience."
Each touch point serves a purpose. Throughout the design process, think about the end-user and envision their perception of the environment. Consider how they might interact with it and how each touchpoint might make them feel. The most effective EGD projects are human-centric. Whether attracting a future resident, communicating with an employee, or welcoming a guest, EGD serves to immerse people in an engaging and custom environment designed to educate, orient, inspire, and entertain.