The Future of Multi-Family: Design Implications for Healthier Living Post COVID-19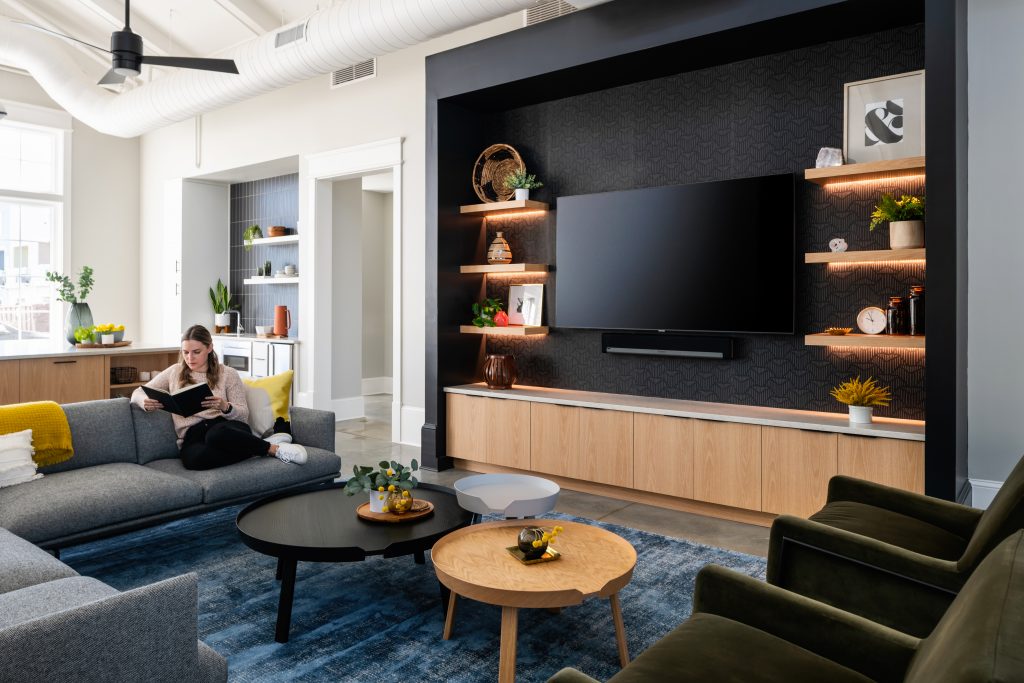 Well before the 2020 global pandemic, people were averaging 90% of their lives indoors. Now with mandatory shelter-in-place orders, social distancing, and encouraged remote working, this once appalling figure feels more accurate than ever. The unprecedented amount of time we've spent in our homes recently has fundamentally altered the role it plays in our everyday life, forcing it to serve more functions than ever before—high-performing workplace, flexible gym, stimulating school, entertainment hub, and safe haven. Stretching our personal space to its limits has shown a spotlight on what works and what doesn't, and prompted the entire population to think more intentionally about how the residential environment meets their needs. How will this pivotal moment in history shape our relationships with our home, our community, and the environment as we look towards our return to society?
Following their webinar, The Future of Multifamily: Design Implications for Healthier Living Post COVID-19, Laurence Caudle, Rhea Vaflor, and GHT Limited's Jim White, summarize the major design trends and solutions anticipated to hit multi-family development as a result of COVID-19.
HEALTH + WELLNESS
Digital Detox
Time spent working at home has meant that our daily commutes, team lunches, and run-ins at the water cooler have been eliminated – or replaced by virtual means. Between work, news, Netflix, Zoom happy hours, and social media, people are spending an exorbitant amount of time in front of screens, and it's beginning to wear them down. Deprived of human interaction, people are craving DIY activities and connections with nature. As restricted access to shared amenity spaces lift, already highly sought after green spaces will become more popular than ever, serving as space for screen-time reprieves. To meet demands, we are exploring how rooftops, terraces, and courtyards in residential environments can evolve to accommodate urban farms and community gardens geared towards providing healthy, fresh foods to residents. The availability of these outdoor hobbies would support community wellbeing and relaxation while reducing the time residents spend in grocery stores or other enclosed market spaces.
Work from Home
Space comes at a premium in any big city, but lack of space while working from home is associated with poor ergonomics, decreased productivity, and increases in stress, migraines, and joint or muscle pain. The teleworking trend shows no signs of slowing down, placing emphasis on innovation and creative use of space as we approach the next chapter of multifamily design. To accommodate more time spent working at home, we expect to see an increase in dual purpose rooms and flexible furniture, including built-in desks and bookshelves, walk-in closets that double as office space, or flip up desks at windows sills that double as storage space. Shared amenities will include multiple co-working lounges throughout the building with access to natural light and widely dispersed workstations with excellent acoustics, in addition to outdoor work spaces immersed in greenery.
Exercise
Co-working is not the only amenity evolving towards increased outdoor use. With fitness facilities and amenities closed during the pandemic, many residents have adjusted their exercise regimen, picking up jogging and cycling outside as a result. Some have gotten creative by utilizing staircases for sprints and squats or taking to Zoom for streamed workouts in their living rooms. To accommodate new styles of exercise and ensure proper sanitation of all work out spaces, we expect to see more variety in fitness design including indoor/outdoor features, an increase in smaller, segmented interior spaces with streaming capabilities for private use, as well as fewer cardio stations that sit farther apart. If a new fitness facility is not an option, management might consider investing in the aesthetics of stairwells – fresh paint, engaging wall art – to encourage their use, both as an alternative to elevators and for exercise.
EQUITY
Safety
Coronavirus has emphasized the effect of socioeconomic factors on human health and we must implement procedures to guarantee clean air and a safe environment for all. Studies show that air pollution is linked to higher rates of Coronavirus deaths while exposure to air pollution is typically linked to lower income neighborhoods and communities of color. To mitigate the spread of germs and bacteria, we anticipate air quality tests and filtration processes will be held to a higher standard moving forward. Increased air filtration can lead to higher upfront and operational costs, so engineers will be called upon to utilize innovative strategies to provide higher filtration without increasing energy consumption. Developers and operators should play an active role to ensure residents across their portfolio have access to clean air. Further care should be taken as they relate to minimizing and eliminating indoor contaminants by selecting materials with low volatile organic compounds (VOCs), easy to clean high touch surfaces, and green cleaning products.  Finally, building operators can incorporate signage that highlights the importance of indoor air quality, water quality, and natural light to their occupants, as well as communicate what actions they're taking to maintain a healthy environment for their community.
Technology
Access to the internet is no longer a luxury but a vital part of our existence in society, a fact that has become more prevalent in our socially-distant world. Those without internet access are disproportionately at risk of missing out on educational and career opportunities. Residential environments may consider incorporating Wi-Fi or broadband into their utilities or amenity services. Additionally, they may offer desktop computers for public use or tablets and laptops for rent.
COMMUNITY
Internal
Social distancing has generated a deeper appreciation for real life experiences and human connection. Despite living in isolation, we continue to host virtual graduations, reunions, and happy hours. We're reaching out to old friends, keeping in touch with distant family and forming stronger bonds with our community through volunteer work. While video chat, phone calls, and social media have helped keep us connected, they're no replacement for face-to-face interaction. As we emerge from this experience, we expect to see a surge in social activity and multifamily should be prepared to meet demand with amenity spaces and programming that promote community building, entertainment, and collaboration among neighbors in a safe and meaningful way.
External
The pandemic has underscored some of the more glaring inefficiencies within urban planning. Traditional zoning policies segregate business districts from residential ones, resulting in economic dead zones and a disparity between areas with tall, dense development and areas with 2-3 story low rise development, further contributing to a lack of available and affordable housing. One solution is to establish zoning adjustments that would allow for more diverse developments or hybrid opportunities, developments that combine residential and commercial use. Not only would these opportunities help breed safer and more economically active communities, but they could help prevent the creation of hot-spots or vulnerable areas with higher walkability scores and increased accessibility to 80% of our basic human needs, including schools, parks, retail, and above all, healthcare services.
A recording of the webinar and a copy of the presentation are available for download, here.