#NoLimits: Celebrating our 2017 promotions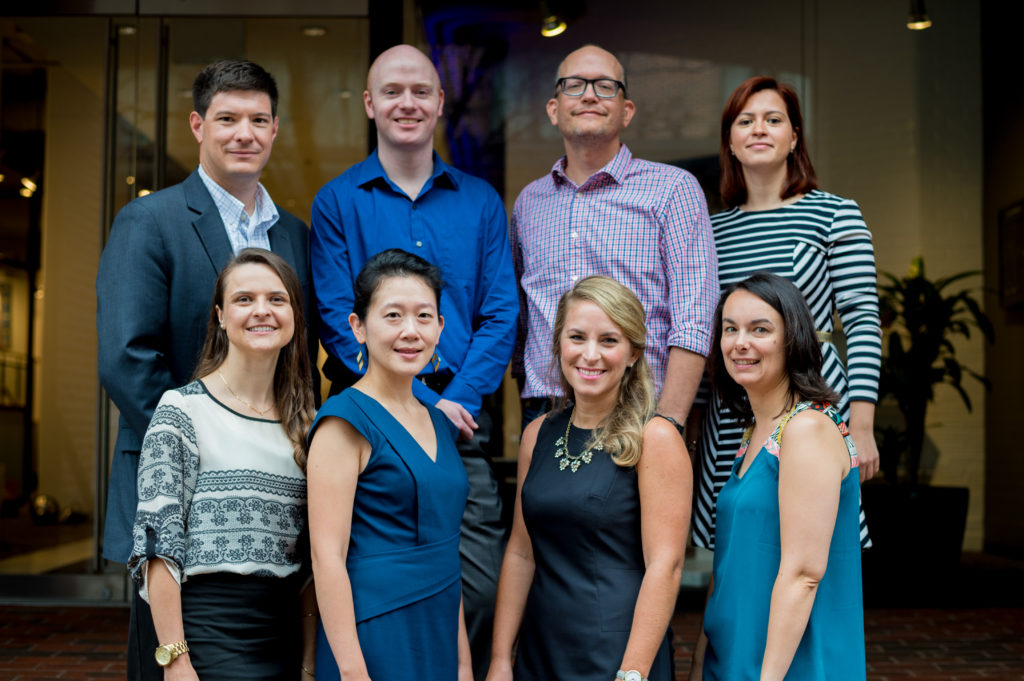 Top row: Jason Wright, Peter McCarthy, Jamie Mitchell, Rosa Zlotkovsky. Bottom row: Tais Xavier, Sophia Lu, Jessica Zullo, Tammy Lippman.
The summer season may be over, but here at Hickok Cole that means it's time for promotions. This year, we continue to build upon our tradition of recognizing individuals who have shown an outstanding commitment to the firm's core values of Great Design, Great Management, and Great Place to Work. Join us in celebrating these eight leaders from across the firm who represent the spirit of #nolimits – pushing themselves, their work, and our firm to embrace new possibilities and color outside the lines.
Associate Principal
"As a leader, Jason brings endless energy and professionalism to every project, putting in whatever effort is required to meet and exceed our clients' expectations. His perspective and judgment are excellent; he's quick to solve problems; and he's a sought-after code/building practice resource for the team, sector, and office as a whole. This promotion is a well-deserved reflection of his ongoing dedication and contributions to the firm, and I'm proud to have him as part of our team."

— Mark Ramirez, Director of Commercial Office, Associate Principal
---
Senior Associate
"Sophia consistently demonstrates exceptional design acuity and a passion for doing great work. She contributes not only to her projects, but also to office-wide design and cultural initiatives. Her combined abilities and work ethic assure that our clients always get the best design possible. I look forward to seeing her influence and leadership continue to grow within the firm in her new role as Senior Associate."

— Laurence Caudle, Director of Housing, Principal
"Tammy has been with Hickok Cole for over ten years, demonstrating dedication to the firm, providing cross-sector design team leadership, and sharing her passion for staff mentorship. Her deep institutional knowledge and senior-level technical expertise have earned her an essential position within our firm's operational structure. With her promotion to Senior Associate, Tammy enhances Hickok Cole's leadership circle, adding an established and well-respected voice."

— Rhea Vaflor, Director of Lifestyle, Associate Principal
"As Director of our RVA studio, Jessica has done a terrific job of breaking into Richmond across several markets. She has actively sought out relationships with the big players in the city and is providing them with new and informed ways to look at the marketplace. Thanks to her efforts, Hickok Cole has landed several significant projects across our market sectors, and our clients in Richmond are able to realize the value of what we bring to the table."

— Yolanda Cole, Senior Principal
---
Associate
"Time and time again, Peter has proven his ability to juggle multiple tasks without sacrificing client expectations or quality of work. He is incredibly productive and versatile, and tackles every task put in front of him quickly and accurately – a highly valued skill set as project and client demands continue to increase. On top of that, he is a fine designer and a pleasure to work with."

— Laurence Caudle, Director of Housing, Principal
"There is no doubt that Jamie has effectively contributed to the success of Hickok Cole Creative. He's an exceptional designer, art director, and mentor who stewards projects from concept to completion with a "sleeves-rolled-up" approach. Jamie's unique sensibilities drive him to work collaboratively with clients to develop brand solutions that meet their end goals, and we look forward to the impact his expanded leadership role will have on both our studio and the firm. "

— Sarah Barr, Creative Director, Associate Principal
Tais Xavier, AIA
"Since joining Hickok Cole in 2016, Tais has quickly proven herself a valuable team player across every project she's touched. She is a highly effective leader, able to leverage her technical expertise across a wide array of projects while demonstrating a genuine commitment to mentoring those around her. With her promotion to Associate, Tais expands her leadership role within the firm, and helps broaden our design knowledge within the realm of hospitality expertise."

— Rhea Vaflor, Director of Lifestyle, Associate Principal
"Rosa consistently demonstrates leadership at both the project and firm level. Her "strong hand" in teaching other staff members (including those more senior) is a core strength upon which we've come to rely, whether she's sharing REVIT tips or helping colleagues prepare for and pass their ARE exams. She is a quiet giant – always working hard, keeping her head down and delivering high-quality work with the best possible spirit and attitude."

— Mark Ramirez, Director of Commercial Office, Associate Principal
---
Join the Hickok Cole team.
Want to learn more about our #nolimits culture? We're currently seeking architects and interior designers in our Washington, DC office. Click here to learn more about Hickok Cole and our open positions.