Harp's Landing adds 400 units to Libbie Mill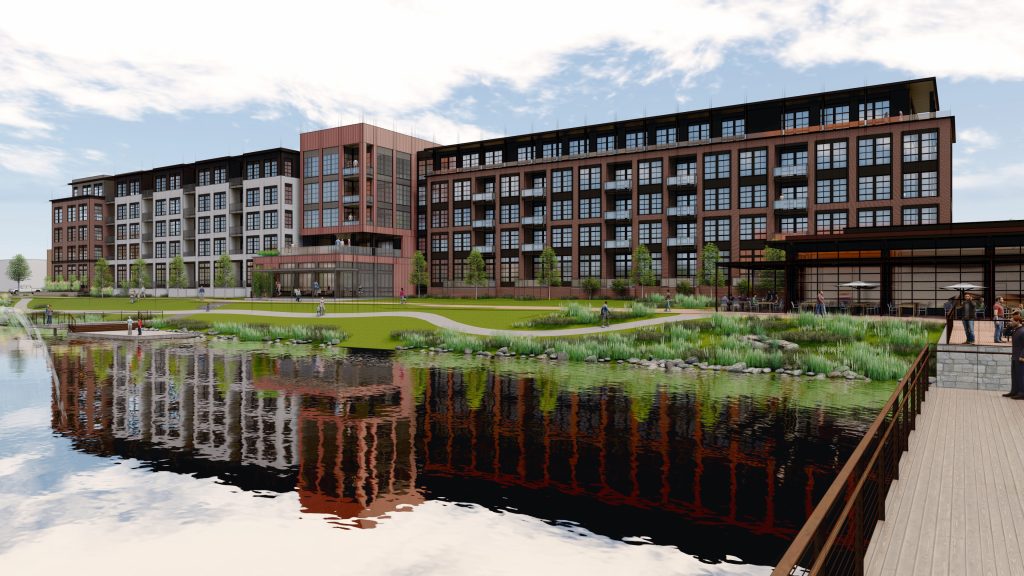 Construction starts this summer on Harp's Landing, a new 400-unit multifamily development featuring cross-laminated timber amenity spaces at Richmond's Libbie Mill. Located on the north side of Libbie Lake, Harp's Landing neighbors the recently completed Wellsmith Apartments—another Hickok Cole and Gumenick Properties collaboration already celebrating near-full occupancy.
Harp's Landing is designed to further link the public and private zones of the Libbie Mill neighborhood. Common spaces that incorporate and feature a sustainable mass timber structure take advantage of views of Libbie Lake. Set on a raised platform, a private pool terrace overlooks the landscaped zone, simultaneously screening residents from public activity while maintaining a connection to the pedestrian buzz below. A porte cochere establishes the primary entrance and begins a gallery connection that continues through the main common spaces to the landing dock and lake. On the ground level, walk-up loft units nod to the existing townhomes to enhance the neighborhood's scale and character.
Read more on the new development in Richmond Bizsense.