DEI Design: Improving the Office Experience for All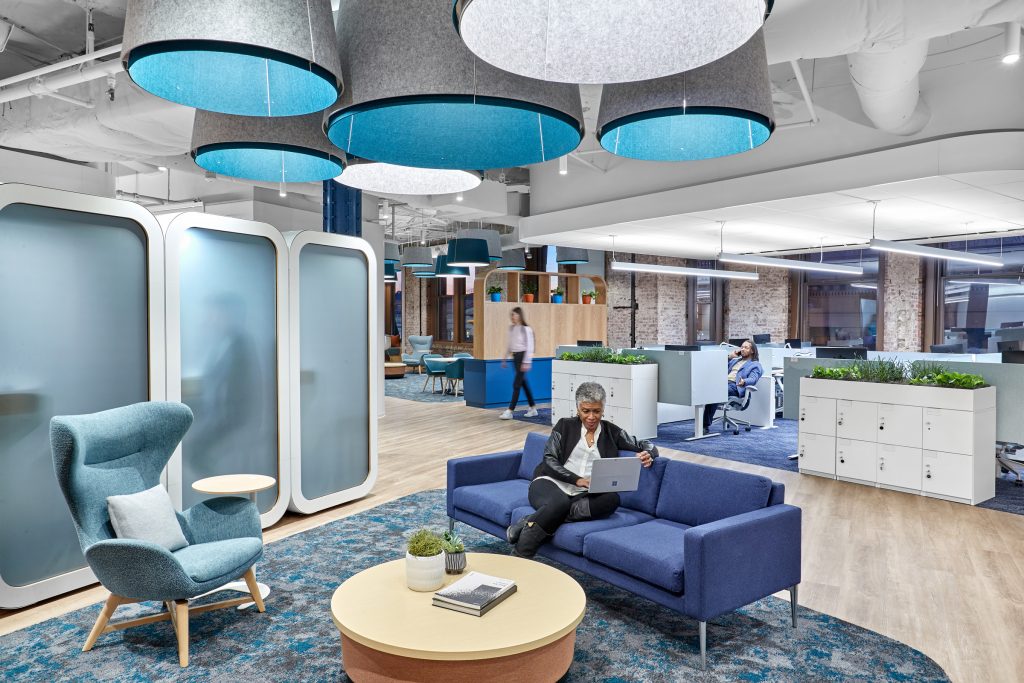 Interior Design and Associate Kirsten Lytle, NCIDQ, LEED Green Associate reveals the process of designing office experience.
A typical visioning session includes a presentation of major industry trends and defines key design concepts as they relate to a client's mission and culture. We recently re-branded these concepts as Design Considerations because, to us, the umbrella themes—sustainability, wellness, branding, and diversity, equity, and inclusion (DEI)—are essential to good design. By regularly engaging in these conversations with clients and partners, we hope to fundamentally transform the industry's expectation of space. Space is not meant to be stagnant. Space must evolve indefinitely to respect its surroundings and serve its end-users.
DEI is at the forefront of our most recent sessions to ensure we acknowledge and address the diverse needs, sensitivities, and preferences of individuals in the workplace. In response to the systemic inequalities underscored by the pandemic combined with employee demand for transparency, companies are jumping to commit to variations on similar DEI initiatives and goals—including a reevaluation of their office space. Leveraging findings from our recently delivered headquarters for Nava PBC and visioning sessions with our hybrid-model client The DC Center for the LGBT Community, we've uncovered the DEI design parameters helping to empower occupants and improve the interior experience for all. (Spoiler alert: you're already doing more than you realize—going the extra mile will feel like an inch.)
DIVERSITY
Diversity in design means making a space comfortable and functional for people with different work considerations and tasks—whether they're neurodivergent and need a quiet space to focus, or a new mother that needs privacy to pump. Instead of designing solely for primary users such as staff and clients, truly diverse design takes all potential users into account including, but not limited to, vendors, partners, and maintenance crew. As an extension of universal design, a DEI approach encompasses the entire spectrum of users. Examples of diversity in the workplace can include:
Going beyond the minimum ADA requirements to ensure those who use mobility scooters can navigate the environment with ease. Current ADA requirements are based on anthropometric averages that exclude many disabled people.
Ensuring equal access and comfort for users with low eyesight or color blindness. Readability of space, or an implicit understanding of activities and tasks appropriate for a given space, is especially critical.
Establishing a sense of community and comfort through the use of imagery depicting and reflecting diverse demographics, as well as symbols of acceptance and affiliation.
Storing regularly used items, like cups or paper towels, below the counter for people of all mobilities and heights to access.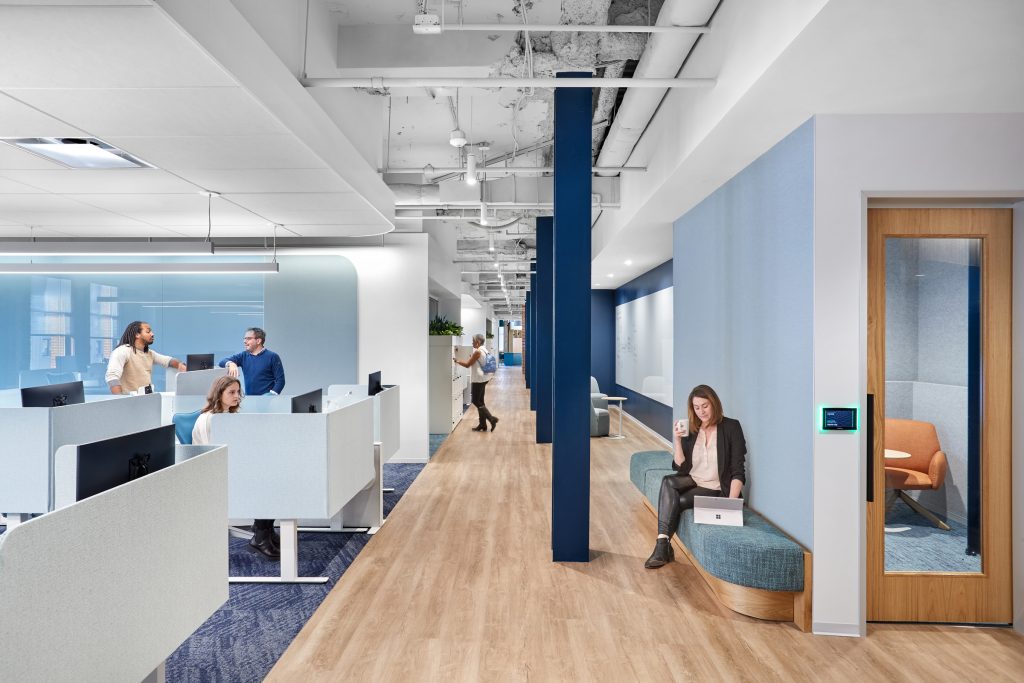 EQUITY
In a modern office, equal access to benefits and resources ensures users do not feel disadvantaged or inferior. Since the pandemic, offering hybrid work strategies and access to technology has become integral to employee productivity and career advancement. While contingent on instilled culture and reinforced behaviors, spacial equity can be achieved through consistent and widespread communication in various formats (verbal, written, and otherwise) that address all sensory and language differences. Examples of equity in the workplace can include:
Indicating occupants are equally valued and considered through the use of same-size offices or workstations, proximity to amenities, and access to a variety of room types.
Eliminating outdated hierarchies through the use of open office floor plans alongside dedicated, personal office spaces.
Programming spaces with the most coveted attributes, like natural sunlight or views of nature, as communal areas rather than an executive's office.
Integrating technology in all meeting rooms to mimic in-person experiences with remote workers.
Selecting round tables instead of rectangles in meeting rooms to avoid seats of power.
Including amenity lounge chairs designed with wider seats and armrests to suit all bodies, ages, and mobilities.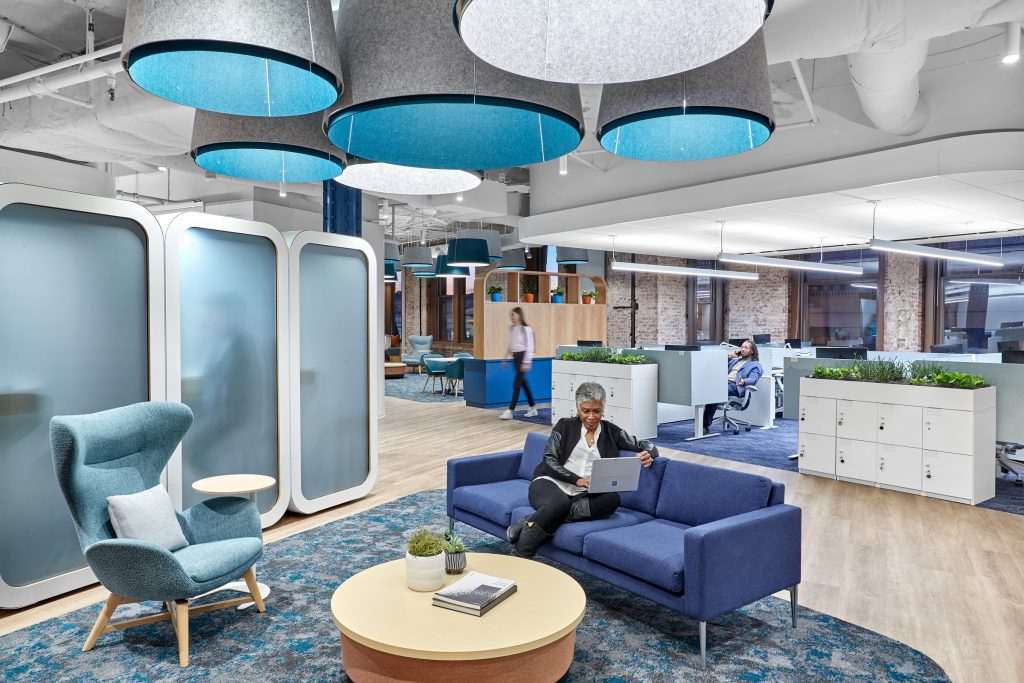 INCLUSION
Creating an authentic connection and instilling a sense of belonging within a space is integral to a successful DEI design. The application of inclusive design practices ranges from literal to cultural and behavior-driven. Inclusive design combines strategies that inspire serendipitous collision and social interaction with tailored solutions that allow individuals to adjust their environments to fit their distinct needs—including a connection to their personal identity. Examples of inclusion in the workplace can include:
Allowing employees to put their values on display through the use of pin-up boards and wall or storage space at workstations that further a cycle of connection between occupants, the company, and brand values.
Offering private wellness suites with non-gendered restrooms.
Integrating signs of welcome and branding that tie everyone to a community.
Good design is meant to respond to its surroundings and end-users. If we make assumptions about those surroundings and end-users, we risk excluding entire populations. Good DEI design strategy encourages employees and occupants alike to be themselves. But for them to be truly comfortable doing that, we must be prepared—as designers, building owners, and decision-makers—to see and celebrate them as individuals.