Hickok Cole Receives Just Label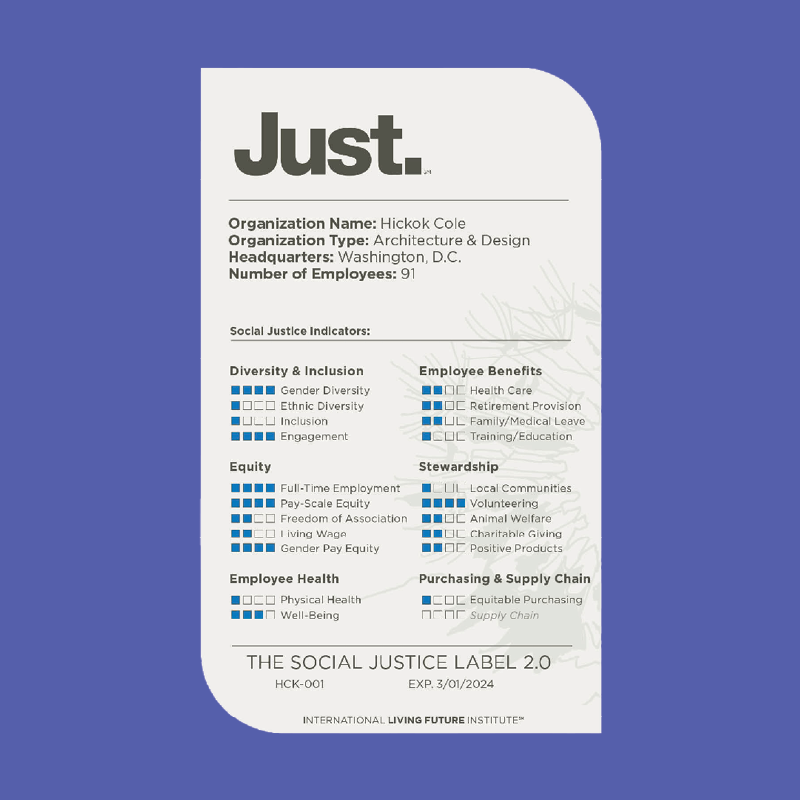 And Just Like That.
We're proud to announce that Hickok Cole has received its JUST Label 2.0 from the International Living Future Institute (ILFI). The transparent program measures how a participating organization performs against several key social justice indicators and produces a public label reporting on its progress. Led by Hickok Cole staff and supported by leadership, the grassroots initiative officially launched in January 2020 with the objective to demonstrate the firm's commitment to building a better and more inclusive workplace for current and future employees.
"Our mission is about doing work that matters – through our project work and in our community. Just provided a formalized framework to measure our progress and ensure we're walking the walk of the core values and culture we've established," explained Laura Ewan, CPSM, Senior Associate and Director of Marketing and Communication. "Working towards this ambitious set of goals was both challenging and rewarding. We're extremely proud of where we are today and the changes we made to get here. Now we're looking forward to 2024 with clearly identified areas for improvement and growth that we can hold ourselves accountable for over the next two years."
The JUST label application process requires reporting on a range of organization- and employee-related indicators which outline measurable accountabilities for an organization to be recognized at four levels of performance. Just indicators include Diversity and Inclusion, Equity, Employee Health, Employee Benefits, Stewardship, and Purchasing and Supply Chain. When an organization receives its label, ILFI posts the detailed information in its publicly viewable database.
"In many ways, the JUST application process gave us a format to reevaluate our current policies and challenge the status quo. We sought to demonstrate how deeply we value our staff and proceeded to invest in the most impactful improvements to best align our operations with the personal, societal, and cultural aspiration of today's workforce," added John Bisch, Principal and CFO. "We want to be transparent about how we run our business and how we process feedback – and that extends to our clients and partners. We're proud to join the global community of organizations embracing social equity and corporate responsibility. Hickok Cole is in great company."
The intensive and highly collaborative application process united members from across the firm, including contributions from JUST label champions, leadership, committee chairs, and the accounting department while regularly informing and engaging staff at all levels. After nearly two years of documenting, analyzing, improving, and reporting on the firm's performance, Hickok Cole received its official JUST 2.0 status and achieve the highest score for six social justice indicators:
Gender Diversity
Engagement
Full-Time Employment
Pay-Scale Equity
Gender Pay Equity
Volunteering
Hickok Cole plans to renew its label in two years, as required by ILFI. Now championed by the firm's DEI Council, they have already made headway on strengthening efforts across several key indicators.