Certifiably Green: Sustainable certifications for high-performance housing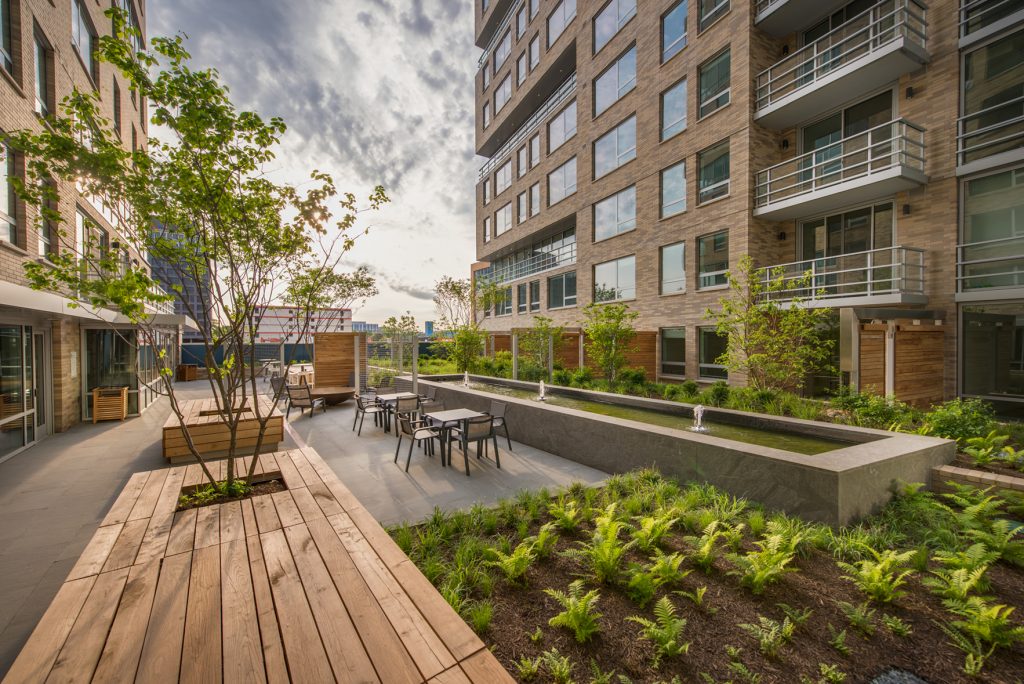 High-performance housing is on the rise and, with it, an overwhelming number of green building certification programs designed to target specific standards and sustainability measures. In addition to the obvious environmental benefits, for the real estate community, the strategies outlined in these programs have more tangible advantages too. Commitments to green practices can differentiate properties from a design perspective and establish a market edge, resulting in less long-term investor risk. Beyond fulfilling code requirements, pursuing certification status substantiates mission and brand values, communicating an authentic culture to stakeholders. Finally, they deliver residents and tenants with a healthy interior environment, one that positively impacts their overall happiness and wellbeing – essential qualities in the post-pandemic marketplace.
So, whether it's meeting local sustainability guidelines, reducing energy consumption (and cost), or prioritizing the health of occupants, there's a program to meet your building's needs. Here's a rundown of the basics to get you started.
Run by the U.S. Environmental Protection Agency and U.S. Department of Energy, the Energy Star certification program focuses on energy efficiency and reducing waste in buildings. The government-backed program offers consumers and building-owners a catalog of information on cost-effective products, services, and tools that help measure and improve building performance. Energy Star certified buildings feature high-efficiency heating and cooling systems, complete thermal enclosures, water protection systems, and efficient lighting and appliances that provide cost savings to building owners and residents alike.
Originally created by the U.S. Centers for Disease Control (CDC) and Prevention and U.S. General Services Administration, Fitwel is a leading certification system that integrates scientific and sustainable solutions into the design process to promote health and wellbeing in buildings and communities. The Fitwel Standard is a tailored scorecard that provides a path towards certification status for existing and new buildings and sites. Projects can achieve three levels of Fitwel status based on a point system addressing Fitwel's Seven Health Impact Categories—including, Impacts Surrounding Community Health, Supports Social Equity for Vulnerable Populations, Enhances Access to Health Foods, etc. Points are awarded according to which Fitwel strategies are applied. Strategies coincide with the Health Impact Categories and are categorized into 12 sections from location and outdoor space to water supply and vending machines/snack bars. The program is designed to be user-friendly and customizable with all strategies voluntary and no prerequisites required for eligibility.
Recognized worldwide, LEED is one of the most commonly used programs, providing a comprehensive framework for achieving healthy, highly efficient, and cost-saving green buildings. LEED places emphasis on the end-user and urges the building community to focus on their health and safety as much as improving construction practices, efficiency, and material use. A flexible set of metrics allow all building types and phases, including interior fit outs and core and shell, to target various levels of certification status depending on energy and water usage, waste, maintenance, air quality, and comfort. Additionally, LEED engages occupants to contribute and decrease consumption. For example, encouraging they take the stairs over using the elevator by placing them in a convenient location or accommodating bikers with storage options to reduce the number of residents commuting by car. Each LEED level – from certified to platinum – makes greater improvements to promote building, occupant, and environmental health.
The RELi rating system and leadership standard takes a proactive and holistic approach to resilient design, specifically in relation to the increased frequency of natural disasters and changes in weather as a result of climate change. Used by companies, developers, city planners, architects, bond insurers and more, RELi involves the entire community to assess and adapt vulnerable structures, taking preventative measures to ensure building's can physically withstand natural disasters. In addition to mitigating hazards to buildings, the RELi system takes the preparedness of entire communities into account. Success is measured according to how quickly they can recover following unplanned events (including economic disruption and resource depletion). From preparing emergency supplies and acquiring back-up renewable-powered generators to thoughtful site selection and durability, RELi outlines the necessary steps building owners and leaders can take to future-proof communities and improve quality of life in a changing world.
WELL is a globally recognized performance-based system for measuring, certifying, and monitoring features of the built environment that impact human health and well-being. WELL identifies 100 performance metrics, design strategies, and policies that can be implemented by owners, designers, engineers, contractors, users, and operators of a building. Consisting of eight categories—air, water, nourishment, light, fitness, comfort, and mind—the WELL Building Standard bridges the gap between human and environmental health, recognizing that a strategy benefiting one will likely benefit the other. For example, increasing access to natural sunlight reduces energy consumption while improving productivity, mood levels, and circadian rhythm. While similar to FitWel, WELL places greater emphasis on the built environment and how it impacts human quality of life. Unlike Fitwel, to be eligible for WELL certification, projects must fulfill a set of prerequisites including several addressing air quality and filtration, water quality, ergonomics, and accessibility. Additionally, the documentation process is more rigorous with several strategies requiring applicants meet target measurements and produce data to support claims. Finally, to achieve WELL certification, the space must undergo an on-site assessment and performance testing by a third party.
The Passive House Institute US., Inc. (PHIUS) is a nonprofit 501(c)(3) organization committed to making high-performance passive building the mainstream market standard. Its certification program, PHIUS+ is the leading program in North America and the only one that combines a thorough passive house design verification protocol with a stringent Quality Assurance/Quality Control program performed onsite. The high-performance building standard challenges the industry to construct buildings that can maintain a comfortable indoor environment with very low operating energy. Certification indicates an energy efficient building design modeled using location-specific climate data and occupant behavior based on three pillars: limits on heating/cooling loads, limits on source energy use, required air-tightness and other prescriptive requirements. The latest version accounts for how occupant density and envelope-to-floor-area-ratio influence heating and cooling load limits. While the program is stringent and requires precertification review as well as third-party on-site quality assurance checks, PHIUS+ is considered a legitimate path to achieving net zero energy and offers tremendous long-term benefits to the occupant and owner. Its air-tight construction reduces moisture and mold issues, while heat recovery ventilation systems improve indoor air quality, while no thermal bridges make for a comfortable interior environment.
Developed by the International Living Future Institute, the Living Building Challenge is a performance standard for buildings that uses a regenerative design framework focused on maximizing positive impacts specific to a project's place, community, and culture. Described as regenerative and self-sufficient, the ideal living building is informed by its bioregion's characteristics, generates all of its own energy through renewable sources, captures and treats all of its water, and operates efficiently while being aesthetically beautiful. The Living Building Standard is continuously informed by current realities and project work as Institute staff monitor and make adjustments based on changes in the field and market. The Challenge assumes typical best practices are currently instituted for a project to begin the certification process. To achieve certification, projects must address aspects of all seven performance categories, known as Petals, which are subdivided into twenty Imperatives, including energy and carbon reduction, net positive waste, education and inspiration, access to nature, etc. Alternatively, projects can achieve Petal Certification for completing all imperatives under a specific Petal or category.
Developed by the U.S. Green Building Council (USGBC), LEED Zero moves beyond LEED certification to provide a framework for high-performance buildings and spaces and reduced greenhouse gas emissions through a comprehensive set of strategies impacting land, waste, materials, and more. There are four categories of LEED Zero including Carbon, Energy, Water, and Waste. To pursue certification, projects must be LEED certified under a BD+C or O+M rating system. Under USGBC, LEED Zero Carbon certification recognizes buildings operating with net zero carbon emissions over the course of the past year. LEED Zero Energy recognizes buildings or spaces that achieve a source energy use balance of zero over a period of 12 months. LEED Zero Water recognizes buildings that achieve a potable water use balance of zero over a period of 12 months.LEED Zero Waste recognizes buildings that achieve GBCI's TRUE Zero Waste certification at the Platinum level.
Interested in pursuing green building certification for your space? Contact Laura Roth, Director of Business Development to speak with our high performance design experts.