Small Towns, Big Ideas: Coworking Trends for Post-Pandemic Success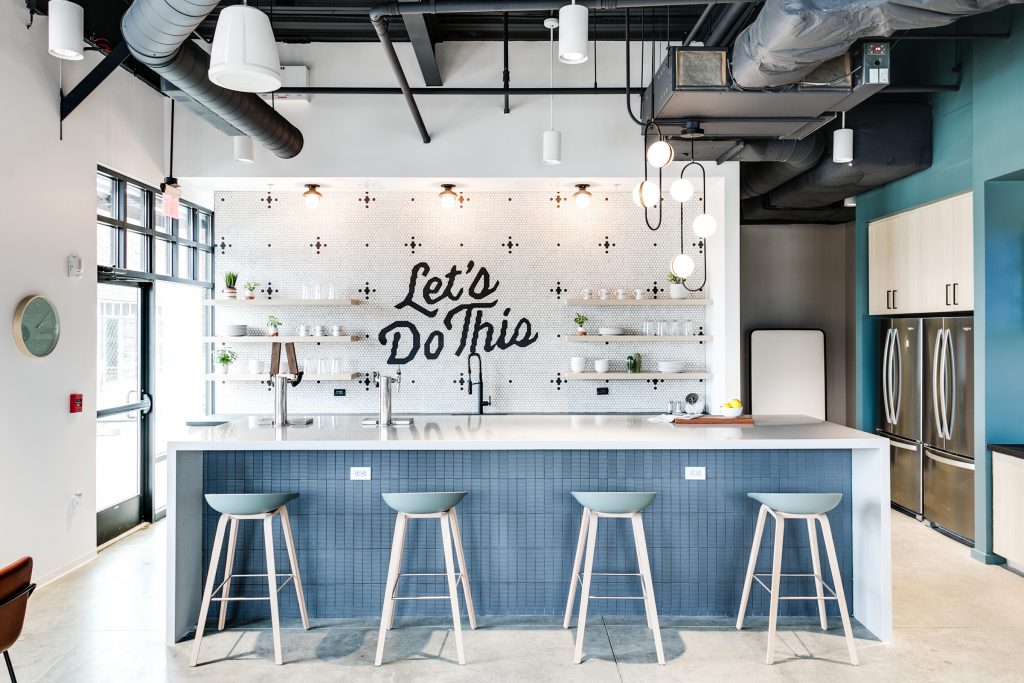 Much like the rest of the world, the coworking industry had a tumultuous 2020. Coming off the heels of WeWork's collapse in 2019, it entered straight into a pandemic that didn't exactly welcome strangers working in close quarters. But, over a year later, with vaccine rollouts moving at warp speed, coworking's future is bright once again. The pillars that make up the original model – community, flexibility, and convenience – are exactly what the workforce is seeking in their return to the physical. In fact, according to CBRE, 82% of companies will favor buildings that offer flexible office space and shared meeting space, especially as they test out long-term hybrid work policies.
That's not to say coworking won't look different upon our return. The original model provided tenants a standard set of amenities designed to appeal to a wide audience, a catch-all strategy that didn't consider industries requiring more tailored solutions. This next generation addresses what the modern workforce craved throughout the pandemic and accelerates the trends driving coworking well before: hyper-niche, hyper-curated spaces that attract and cater to targeted tenant types.
Communities seeing some of the most exciting new offerings are smaller markets like Richmond responding to the ongoing influx of mobile workers and creative talent migrating out of major cities. Our local team of coworking experts – Studio Director, Jessica Zullo, NCIDQ, IIDA, Senior Designer, Patrick Gegen, and Interior Designer, Jordan Camp, IIDA – share some of the trends and providers helping shape the post-pandemic flexible office landscape in RVA.
The Home Grown Hero
Beyond serving as office space, coworking is leaning hard into its ability to foster a sense of belonging within communities, seeking to expand opportunities for member bonding outside of the 9-5 window – especially for those new to the area. Convenience, inspirational design, and dynamic programming that serve member interests are key. At Gather, the Richmond-based coworking platform, each location pays homage to the city with design details specific to the individual neighborhood and its history. Programming caters to their membership of start-ups and entrepreneurs while engaging with the community through cross-promotion of local brands or Richmond-based services. Some examples include headshots by a local photographer or pop-up gallery events that feature local artists and provide a unique venue for members to meet with clients.
The Social Club
Following a year (or what feels like decades) in near isolation, many are anxious to make up for lost time. Richmond's Common House, a local gathering and social hub, offers a coworking model emphasizing exclusivity on top of convenience and shared interests. Their members-only cultural experiences are designed for entertainment – spa and fitness services, wine tastings, live music, fine dining – all offered under one roof. These curated environments act as third places for both business and social pursuits, injecting creativity and lifestyle into the work experience to expose clients and colleagues to an additional layer of brand identity, status, and personality.
The Test Kitchen
Though essential to a typical coworking environment, the standard combo of open office, private huddle rooms, and shared conference amenities overlook the needs of entire industries – industries whose membership would benefit from specialty tools, technology, and spaces they don't bear the brunt to finance and maintain. One of our favorite new examples is food hall, Hatch Local at The Current, a Richmond-based residency program catering to a rotation of food and beverage startups under one roof. Off the heels of a pandemic that made the restaurant industry particularly vulnerable, this coworking concept allows up-and-coming chefs and entrepreneurs to conduct market research and gather intel from consumers in a high-traffic area before committing to a retail front of their own. Members also have access to a commercial kitchen, office, and storage space as well as mentorship and advisory opportunities.
The Impact Incubator
Beyond physical resources, the networking and mentorship opportunities available in a coworking environment grow ten-fold when offered among like-minded professionals. At the Collaboratory of Virginia (CVA), nonprofit organizations work alongside each other in a neutral shared space designed to facilitate innovation and collaboration among members and prioritize efficient use of networks and resources. In addition to receiving consultation or mentorship, members benefit from the exchange of information and experiences of others within a shared community which helps build stronger platforms by uniting support around similar causes.
The Frequent Flier
Remote work has granted us an unprecedented level of flexibility – in our schedules, our furniture, and just about every inch of our lives. Untethered to our desks, we can work from anywhere, in our beds or at the beach. Even as we return to the physical workplace, that level of independence remains of paramount importance and some professionals will maintain the transient habits they've grown accustomed to. To accommodate those workers, we anticipate a greater need for coworking locations that offer daily or even hourly rates for drop-in guests.
On-demand services like LiquidSpace, connect professionals directly with a temporary desk or office space in the city of their choosing, including our fan favorite, Gather. This agile model serves mobile professionals with tasks that require focus like participating in an interview or when they need specific tools like photocopiers. Even workers who do have a designated office space may look for a third-space or touch-down location for off-site collaboration or retreats. Finally, short-term rentals allow coworking brands to capture unleashed space while exposing them to a new set of clientele, ones that could easily convert to long-term members down the line. Because now we know that so long as there's Wi-Fi, nothing can stand in our way.