Hickok Cole's Richmond Studio Re-Locates to the Arts District Neighborhood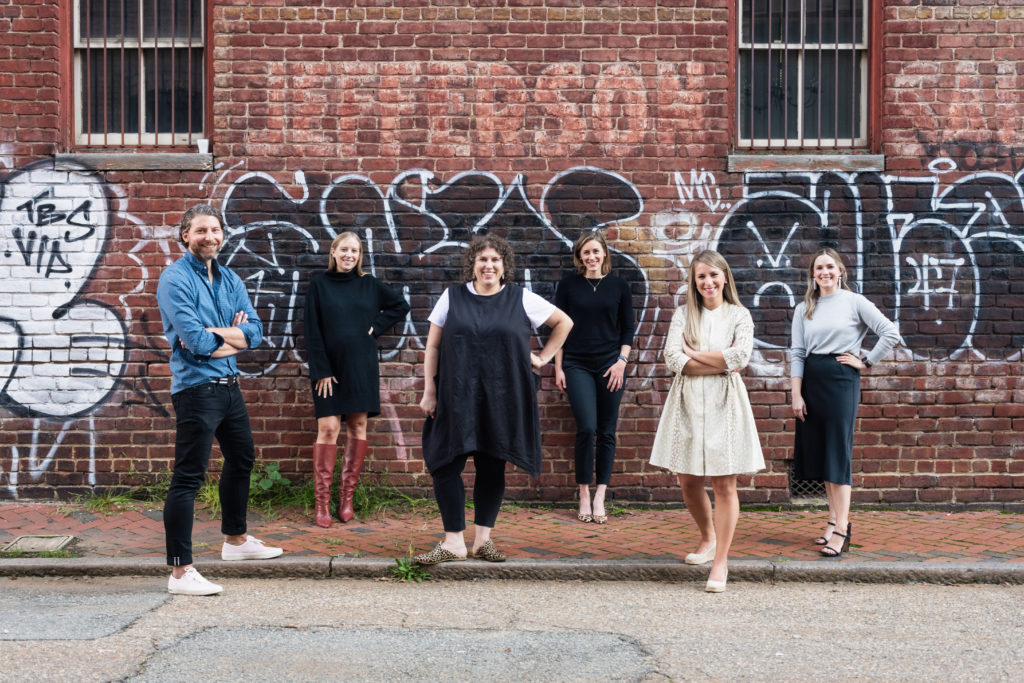 RICHMOND, VA – November 16, 2020 – Hickok Cole announced the opening of its new Richmond studio at 20 E Broad Street in the city's Arts District neighborhood this fall. Since launching Hickok Cole RVA in 2016, designers had been operating from the Gather coworking space in Scott's Addition but had consistently grown in size and were in need of a new space that could support their vision for the future. The new 1,500-SF location offers greater flexibility and improved collaboration with room for a material library and display drawings as well as a wellness room and dedicated meeting space to host clients.
"Our team is deeply rooted in Richmond and passionate about the Arts District neighborhood. We're invested in this city and wanted our new space to communicate that," says Jessica Zullo, Associate Principal and Director of RVA Studio.
"A ground floor retail setting allows us to interact with pedestrians and contribute to the neighborhood experience. We're urban designers at heart and relish being a part of this flourishing creative community in Richmond."
The ground-floor storefront features large windows that showcase the open studio environment inside, which includes shared tables and seating. The hospitality-inspired design features artful lighting, open shelving, and the strategic use of carpet tiles as area rugs to showcase the original wood flooring. A hospitality pantry featuring modern glazed brick tiles, concrete quartz countertops, and matte black plumbing fixtures serves as a sophisticated showroom for clients.
The team discovered the storefront while designing the adjacent Someday Shop and worked with Gareth Jones of JLL to negotiate lease terms. Arts District presented itself as the ideal location due to its proximity to galleries, Virginia Commonwealth University, and other design studios and small businesses. Construction began in April of this year and completed in September. Currently, all Hickok Cole staff are encouraged to work remotely with team members coordinating to phase schedules and following CDC guidelines should they need to be in the office for any reason.
"We're so impressed by what the Richmond studio has been able to achieve in its four years of operation. Under Jessica's leadership, they have truly integrated themselves into the community and developed the kinds of relationships we've built our DC office on," said Mike Hickok, Senior Principal and Co-Founder of Hickok Cole. "Having recently announced plans to move our headquarters location to DC's Union Market neighborhood, it's fitting that our Richmond office would find itself moving to a creative community as well. The Arts District embodies our firm culture and poses an excellent opportunity to expand our long-established commitment to the arts."
About Hickok Cole
Hickok Cole is a forward-focused design practice connecting bold ideas, diverse expertise, and partners with vision to do work that matters. Informed by research and fueled by creative rigor, we look beyond today's trends to help our clients embrace tomorrow's opportunities. Headquartered in Washington, DC for over 30 years, Hickok Cole expanded its presence beyond the DMV area to open a Richmond Studio in 2016. After nearly five years, Hickok Cole RVA is proud to have designed some of the area's most sophisticated interior projects including multiple Gather co-working locations, The Current, Brenner Pass, and the Wellsmith at Libbie Mill Midtown.