Inside Facades+ DC: The Projects, Trends, and Voices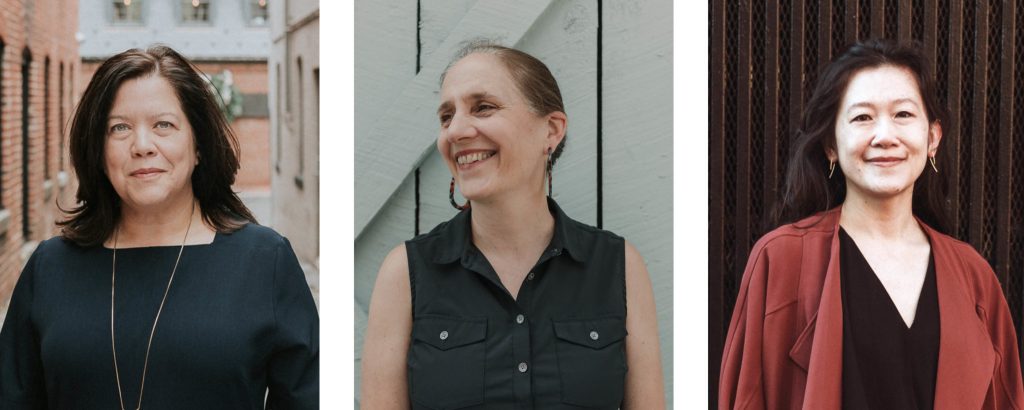 From left to right: Elba Morales, Holly Lennihan, Sophia Lau
Architecture in Washington, DC is easily overlooked, often distilled to a vision of concrete and conservatism or disregarded as unimaginative. But architects in the city would argue that this couldn't be further from the truth. In recent years, a broader shift in cultural and social values coupled with an urgency around climate change have contributed to a gradual yet undeniable transformation of the capital's urban landscape. Even as the same restrictions around height remain in place, architects in DC have continued to innovate and mature within those boundaries – redefining the city through placemaking and the sheer power of a facade.
Ahead of the Facades+ DC conference this month, we sat down with Co-Chair Elba Morales and panel moderators, Holly Lennihan and Sophia Lau to discuss the evolution of DC design and explore the most significant factors influencing its future. Let's dive right in.
---
Elba, over the past several months, you've been working closely with the Architect's Newspaper to curate the programming for Facades+ DC. What influenced your selection of panel topics and speakers?
Elba Morales (EM): The conference presented us with an opportunity to design a program around what we're most excited about and, more importantly, what we thought our peers and clients would be most interested to learn. We wanted to expand the conversation on DC architecture beyond federal buildings and monuments by introducing a new crop of buildings with materials, details, and tectonics that offer a counterpoint. Likewise, the local industry's recent discussions around glass box fatigue are justified to a certain degree. But we tried to examine what it is about glass facades that we're reacting to specifically – is it the lack of sustainable strategies in the enclosure, the generic character of the façade, the missed opportunity to contribute to the character of the neighborhood? We wanted to capture how glass is being redefined to become more sophisticated and tectonically complex. Solid facades present different opportunities in terms of placemaking. So we selected projects that convey how a facade can relate to its surroundings in different ways and propose a new type of monumentality. Finally, we knew we definitely wanted to address high-performance design because of the natural progression of policy and because we feel it's important to perpetuate the dialogue around sustainability.
---
You mentioned DC's glass box fatigue, which has been a hot topic across the industry over the past few years. What makes the first panel's focus on the glass facades at the International Spy Museum and 2050 M Street different?
EM: Both projects have a distinctive façade and treatment of glass that is anything but generic, and we're going to hear directly from the teams responsible for executing them. If you think about 2050 M, we see the fluted panels but so many of the details are hidden, or eliminated in the case of the vertical mullions. At the Spy Museum, all of the gymnastics of the oversized glass and connections to the angled fins are fascinating to me. It's really unusual to see a façade layered in such a way that it creates pleats – it makes the whole facade feel lighter. And the way the entire façade cantilevers over the street! These tectonics did not exist in DC before these two buildings. The complexity of these facades required a lot of technical expertise, in some cases a massive approval process, and ultimately an owner willing to go there. I want people to be inspired by the challenges that come with innovating and going outside the norm like this, and look forward to hearing more about it myself.  
---
How do you hope the presence of these innovative projects will impact design within the city?
Sophia Lau (SL): It's important to showcase that this kind of work can be done in DC. These buildings have a sculptural quality and are very thoughtful in how they're realized in the details of construction. They create inspirational places for people to enjoy and remember. Exposing the DC marketplace to this caliber of design will hopefully bring new trades and skills to the construction industry that make it more mainstream. Everything we build is part of a movement to push the industry to the next level. Having these kinds of forums allows us to engage in conversation, build on ideas and then fuel them forward. It's a village: the designer, the contractor, the developer and so on. We want to find new ways to inspire and challenge the status quo and enjoy working with clients that want that too.
---
The second panel takes the concept of sculptural design to the extreme through the examination of the Glenstone Museum and The REACH at The Kennedy Center. What makes you excited to hear from the teams behind these two projects?
SL: We chose to highlight glass versus non glass on purpose to spur a conversation between mass and opening. We want to capture how buildings can display elements of excellent design through the examples we highlight in the conference. Not just in museums or institutional buildings but in offices and buildings that affect our everyday. At The REACH, Stephen Holl took advantage of the fact that concrete is liquid to create an experience that embraces curves. His team used the plasticity of poured-in-place concrete to create dynamic forms that literally dance in the landscape. What's so compelling about Glenstone is how an institution can use the humble material of concrete and realize it in a majestic way. The facade is more than just an envelope and is deployed masterfully. It demonstrates the level of creativity that can be achieved with any material, and showcases how something like concrete can be looked at thoughtfully and reinterpreted. The precast concrete units surprise people because they think its stone. We know it's not, but Thomas Phifer and his team elevate the material in a way that alters its perception. I am exceptionally interested in learning more about that process and how they could get it to a point of transformation.
---
The final session invites experts from Transsolar and the Center for the Built Environment to share the latest on their sustainability research. Why are open dialogues like this more important now than ever before?
Holly Lennihan (HL): No matter which way you look at it, climate change cannot be ignored, and that translates to the building industry in the form of being more intentional with how we design. With legislation like DC's Omnibus Act, all of a sudden we're having mandated conversations that explicitly require us to explore outside of our comfort zones and learn from others in the field. Quantifying and analyzing building performance or studying how buildings perform with different facades is an expertise, so how do we find and tap into those experts to educate ourselves and our peers? Education is key. That's why sharing our work more frequently is extremely valuable, especially when it comes to sustainability. It makes replication of what works so much easier, and that's what we want above anything else – to make high-performance design more approachable for designers and clients. As sustainable programs become more mainstream, the evolution of how they're applied is changing becoming more sophisticated. For example, we talked earlier about the glass box phenomenon, and all-glass buildings are not great for sustainability when it comes to energy usage. The current solution tends to revolve around layering or adding shading techniques to reduce overheating, but now is the time to go back to the basics and add mass as well as take advantage of the available technology. People are working hard to sort out how to make a shift in their design process. It's an amazing time to be an architect because there's a real transformation occurring in how we do what we do. One thing we can't forget – even with all of the new technology out there – is that the fundamentals of design still apply. Basic things like quality air barriers and proper insulation – these are age old responses to climate conditions that start at the very core of the building and cost nothing. I really think the whole industry is coming to terms with the concept of less is more. And as Sophia said before, the only way we're going to get there is together.
---
What do you all hope people take away from the conference?
HL: There are a lot of great nuggets to pull from, even at the basic level. We want to impress upon owners and developers that professionals in this area don't shy away from risk. We are not going to ignore the complications of trying something new, or being the first as in the case of our work at AGU. We understand that these conversations start early and that we need to continue to educate ourselves. Anyway we can move the needle forward with our clients – whether it's a more sophisticated facade or designing for net zero energy – that's a win for us.
SL: This is an opportunity to join a forward-thinking community. We hope people come away motivated to become active participants in the dialogue, research and collaborations that are pushing the built environment to new heights of design excellence. 
EM: Ultimately, we're pushing for change and a more immediate dialogue on what it takes to follow through on ambitious aspirations. In the context of the conference, we want to see more buildings with facades that inspire us and that are better for our city, people, and environment. The conference has an excellent range of speakers who will tackle these topics from diverse viewpoints – sharing details, processes, and challenges that are not public. That in itself is so powerful. We want people to feel inspired by what is presented and what can be achieved. And to know that DC is happening!
---
Elba Morales, LEED AP is an Associate Principal and Senior Designer at Hickok Cole. She is currently working on several repositioning projects including 1400 L Street NW, 2340 Dulles, and 2 Bethesda Metro.
Holly Lennihan, RA, LEED AP is a Senior Associate and Director of Sustainable Design at Hickok Cole. Holly is in the process of delivering the American Geophysical Union headquarters, DC's first net-zero energy renovation of a commercial office building.
Sophia Lau, AIA is a Senior Associate and Senior Designer at Hickok Cole. She is currently working on the National Geographic Pavilion.