Hickok Cole Celebrates MLK Gateway Groundbreaking with Menkiti Group and Mayor Bowser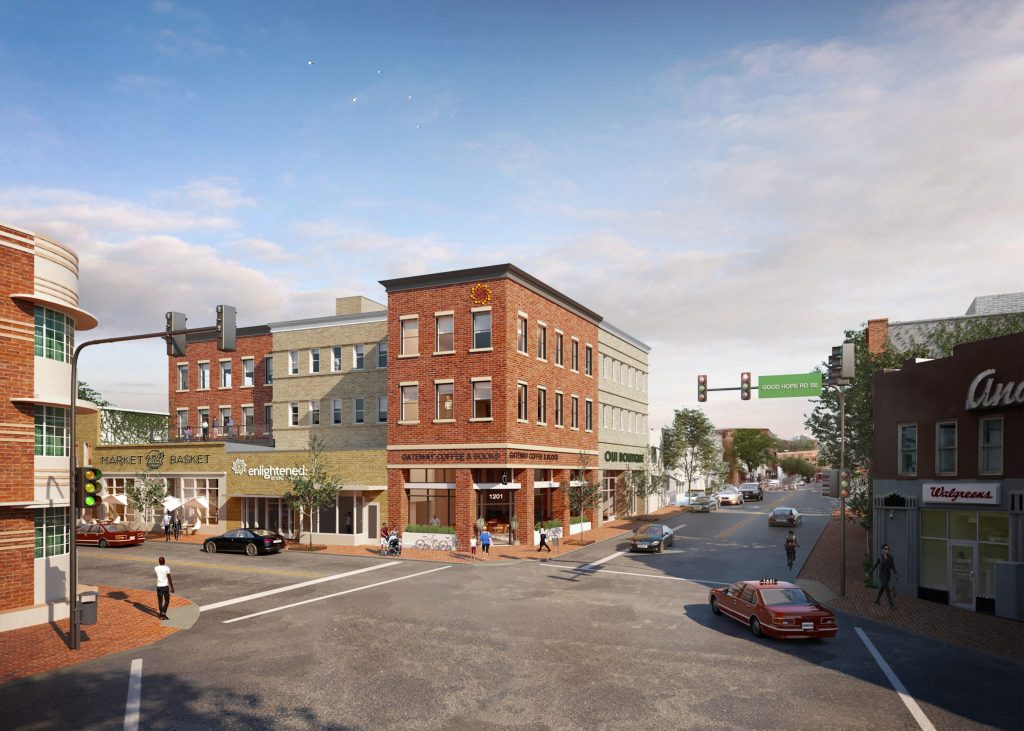 On January 8, 2020, Hickok Cole, the Menkiti Group, and Enlightened Inc. were joined by Mayor Muriel Bowser and city officials to celebrate the official groundbreaking of the MLK Gateway. Located at the corner of Good Hope Road and Martin Luther King Jr. Avenue SE, this development intends to revitalize the Anacostia neighborhood and serve as a catalyst for economic opportunity. Upon completion, the project will deliver an estimated 400 jobs to the local community.
Our team has worked closely with the Menkiti Group to design a sustainable and equitable space that matches their vision for economic development while addressing the needs and concerns of the Anacostia community. Beginning Q1 2021 upon construction completion, Phase One will feature the restoration of 14,000 SF of ground floor retail and 20,000 SF of newly built office space, and include facade preservation in an effort to maintain continuity of the historic neighborhood. Phase Two design will tentatively start later this year with the goal to start construction soon after the completion of Phase One.
Several companies are already on board to lease the new space, including Enlightened Inc, who has agreed to relocate its headquarters from downtown DC. The tech company will not only increase traffic to the area, but increase career growth with a new incubator program designed to help small tech firms conduct business with the federal government, in addition to offering cybersecurity training geared towards providing local residents with new skill sets.
We are thrilled to be a part of this pivotal development in the heart of Anacostia and look forward to the monumental opportunities it will bring to the community.