Workplace Interior Practice Positioned for Success with New Leadership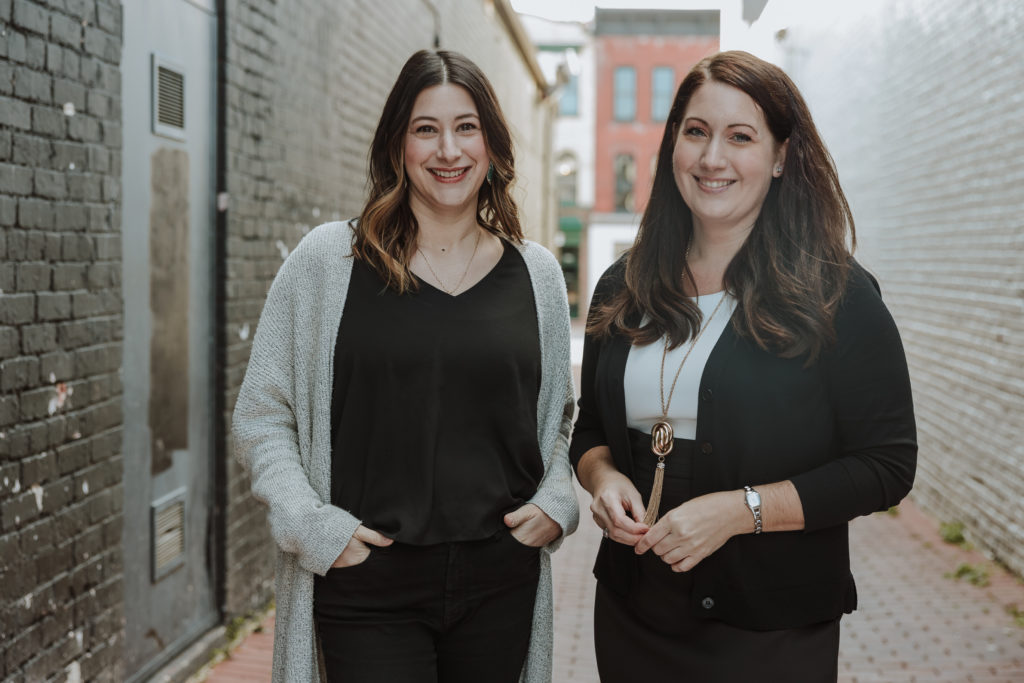 Hickok Cole Positions Workplace Interiors Practice for Continued Success with Appointment of New Leadership
Melissa Brewer joins Hickok Cole's Amy Shavelson to lead the department in tandem.
WASHINGTON, DC – November 11, 2019 – Hickok Cole, an award-winning regional design and architecture firm, welcomed new Senior Associate and Co-Director of Interior Design, Melissa Brewer and announced the promotion of Amy Shavelson to Co-Director. The two will lead the firm's workplace interior design practice in tandem.
Melissa Brewer joins Hickok Cole with more than 15 years of experience in corporate, multi-family and hospitality design. Hailing from California, she has spent most of her career in the Minneapolis office of Cuningham Group Architecture, where she was the primary interior designer and client contact for managing the interiors work on the Epic Systems 10,000 employee, 26+ building tech corporate campus. Additionally, she served as lead interior designer on hospitality, retail, education and corporate projects. Brewer relocated to DC last year as Interior Design Director at the DC office of BKV Group.
"We're thrilled to have Melissa on board to embark on the next chapter of our workplace interiors practice," said Michael E. Hickok, Principal and Co-Owner of Hickok Cole. "Her design insights and storied experience working on a range of high-caliber corporate projects will prove invaluable as we look towards 2020 and beyond. We are confident Melissa will propel the team towards continued success in implementing bold, user-based design."
Amy Shavelson has over 15 years of experience in commercial interior design. She is accomplished in the execution, direction and management of all phases of commercial interior design, with experience encompassing a broad spectrum of market sectors including associations, technology, corporate, retail and health care. She has designed and managed commercial and interior design projects in the Washington, DC area, New York and in Baghdad.

In her new role, Shavelson will continue to focus on broker and landlord relationships, as well as corporate and non-profit end users. Brewer will focus on corporate headquarter interiors and build-to-suit projects in collaboration with Hickok Cole's commercial architecture practice. While both are experienced in all aspects of interior design projects from programming, visioning, design, management, detailing and construction administration, Brewer will lean towards design management and Shavelson will lean toward project management.

"We want to specifically recognize Amy's leadership during these past few months, driving innovative business strategy while continuing to foster relationships and expand the firm's network," added Yolanda Cole, Principal and Co-Owner of Hickok Cole. "Amy's excellent project management skills paired with Melissa's affinity for conceptual design will serve us well as we continue to shape and build upon the practice. We look forward to the future of workplace design under their leadership."
About Hickok Cole
Hickok Cole is a forward-focused design practice connecting bold ideas, diverse expertise, and partners with vision to do work that matters. Informed by research and fueled by creative rigor, we look beyond today's trends to help our clients embrace tomorrow's opportunities. We've called DC home for more than 30 years, and are proud to have designed homes for some of the area's leading organizations, including National Geographic, JLL, and the American Geophysical Union.