Join Hickok Cole Designers at DesignDC 2019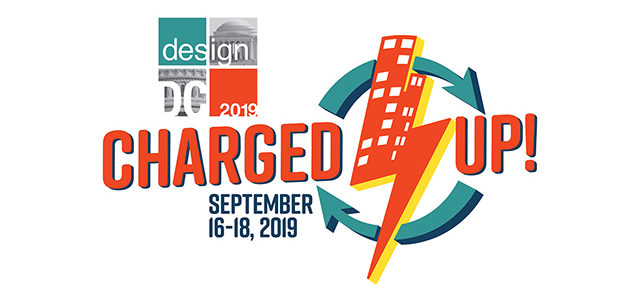 WASHINGTON, DC – Hickok Cole's Joël Onorato, Jason Wright, Holly Lennihan, and Guil Almeida were selected to participate in this year's AIA DesignDC Conference in Washington, DC from September 16 through September 18, 2019. The premier regional conference theme, Charged Up, will focus on the unique challenges facing architects, interior designers, engineers, contractors and developers in the DC metro area with a range of panels covering emerging technologies, trends, and the intersection of sustainability and design.
Joël, Jason and Holly will speak on various panels throughout the conference on subjects including the circular economy, DC building code changes, sustainable retrofitting and net zero energy. Guil will lead a guided tour of the American Geophysical Union, Washington, DC's first commercial office building to achieve net-zero energy.
Is the Building World Ready for the Circular Economy?
Joël Onorato, Architect and Structural Engineer
Sept. 16, 2019 at 8:30-10:00 am
Materials require large amounts of energy and finite resources during production but normally end up in landfills after demolition. This presentation will cover why it is necessary to transition to the Circular Economy where waste, material consumption and environmental impact are minimized by keeping products and materials in use in order to drastically reduce this impact.
Upcoming Changes to the DC Building Code
Jason Wright, AIA, LEED AP BD+C, Associate Principal
Sept. 16, 2019 at 10:15-11:45 am
In response to the 2018 published Notice of Proposed Rulemaking for the 2017 District of Columbia Construction Codes, this discussion will focus on many of the key code changes that will impact design and construction in the District, including an overview of the 2017 DC Construction Code proposed changes and include a Q+A session. Jason joins Chris Campbell, PE from Arup on the panel.
Retrofitting Existing Buildings – DC's Sustainability Guide for Existing and Historic Properties
Holly Lennihan, LEED AP, Director of Sustainable Design
Sept. 17, 2019 at 8:45-10:15 am
This session will provide an overview of the "Sustainability Guide for Existing and Historic Properties" intended to promote and facilitate green retrofits of existing older buildings in a manner that will improve their performance and energy-efficiency while also respecting their character. Holly joins Laura Huges from EHT Traceries, Sarah Vonesh, LEED and Melanie De Cola LEED on the panel.
---
Coming Up: Another Way of Getting to Net Zero
Holly Lennihan, LEED AP, Director of Sustainable Design
Sept. 17, 2019 at 2:15-3:45 pm
This panel of designers and ecologist will discuss the ecology of the District, the practices that contribute to the health of our habitat, how positive impact can be measured and case studies that illustrate methods for creating health urban habitats. Holly joins Joe Chambers, ASLA from Landscape Architecture Bureau, Damien Ossi from Department of Energy and the Environment and Dr. Robert McDonald from The Nature Conservancy on the panel.
Tour: The American Geophysical Union
Guil Almeida, AIA, LEED AP, Senior Associate and Project Designer
Sept. 18, 2019 at 10:00 am-12:00 pm
During this session, participants will tour and learn about The American Geophysical Union, the first-ever net zero energy renovation of an existing commercial building in the District. The tour will highlight the unique systems installed in the building and the innovative blend of architecture and engineering.

---
Media Contact:
Ellie Ruggeri
917.708.0947
eruggeri@hickokcole.com